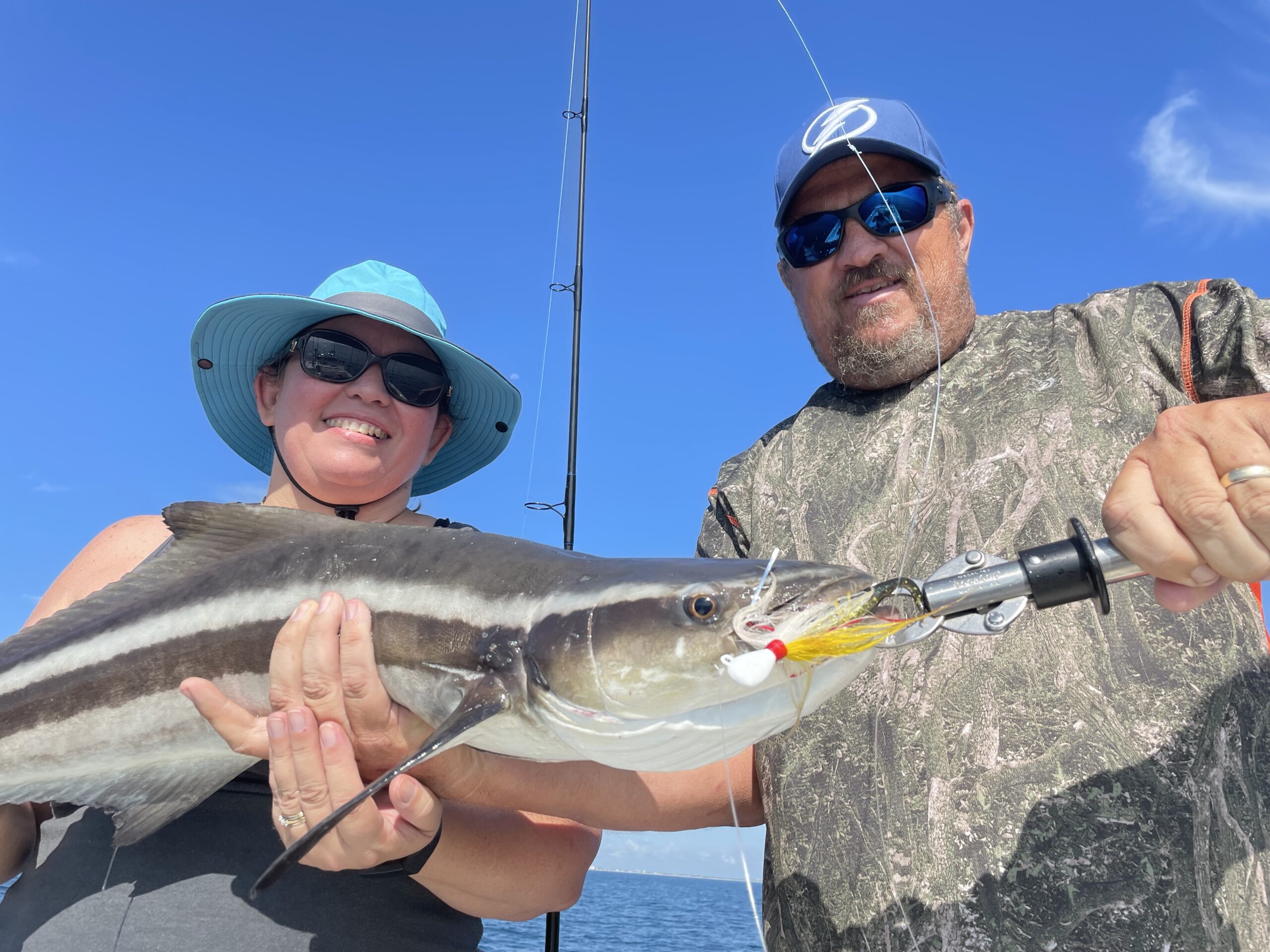 We had some unexpected surprises on our near-shore and offshore charters in July. We had a couple of days when we couldn't find any live baits, and ended up having to use dead baits on those trips. As you all can imagine, the fish just don't like dead baits on most days, and we didn't catch very many fish when the pogies and pilchards disappeared mid-month. One of the pleasant surprises we had this past month was Cobia though. Cobia started popping up on quite a few of our trips as we were slow trolling with live baits for king mackerel on the reefs and wrecks. These fish were small for the most part, but a few were good sized. These got invited home to join our anglers for dinner. Joe and Susan Daley (pictured above) got a few to eat for them while casting jigs tipped with pogies.
Danny Blackwell's crew of George and Lamont also had a good day on these fish while targeting king mackerel. They had shots at 6 or 7-cobia that struck our trolled baits or hit a jig cast in their direction.
Danny had a good kingfish himself to boot. Most of our kings are running 10 to 20-pounds, but a couple hit the 30-pound mark this past month.
Snook, redfish, and jack are keeping us busy at the inlet and this action should continue to get better and better as we get closer to the start of the mullet run right around the first of September. This is when the ocean can get crazy with fish blowing up schools of mullet for hours at a time on some days. This furious action also coincides with the opening of snook season on September 1st. If you love to catch snook, then this is the time for you to book your trip with us. Many of the snook we were catching on our charters in the spring time were in the slot (measuring 28″ to 32″ with a pinched tail) or just below this limit. These fish have grown all summer and we believe that many should be within these measurements (or slot) for the fall opening next month.
If you would like to get out and try for some snook with us choose the 1/2-day near-shore option on our reservations page when booking your trip. You should also have shot at jack, redfish, shark, and possibly tarpon and flounder as well on some days.
Captain Justin and I look forward to seeing you real soon so we can go out to catch your next memory!