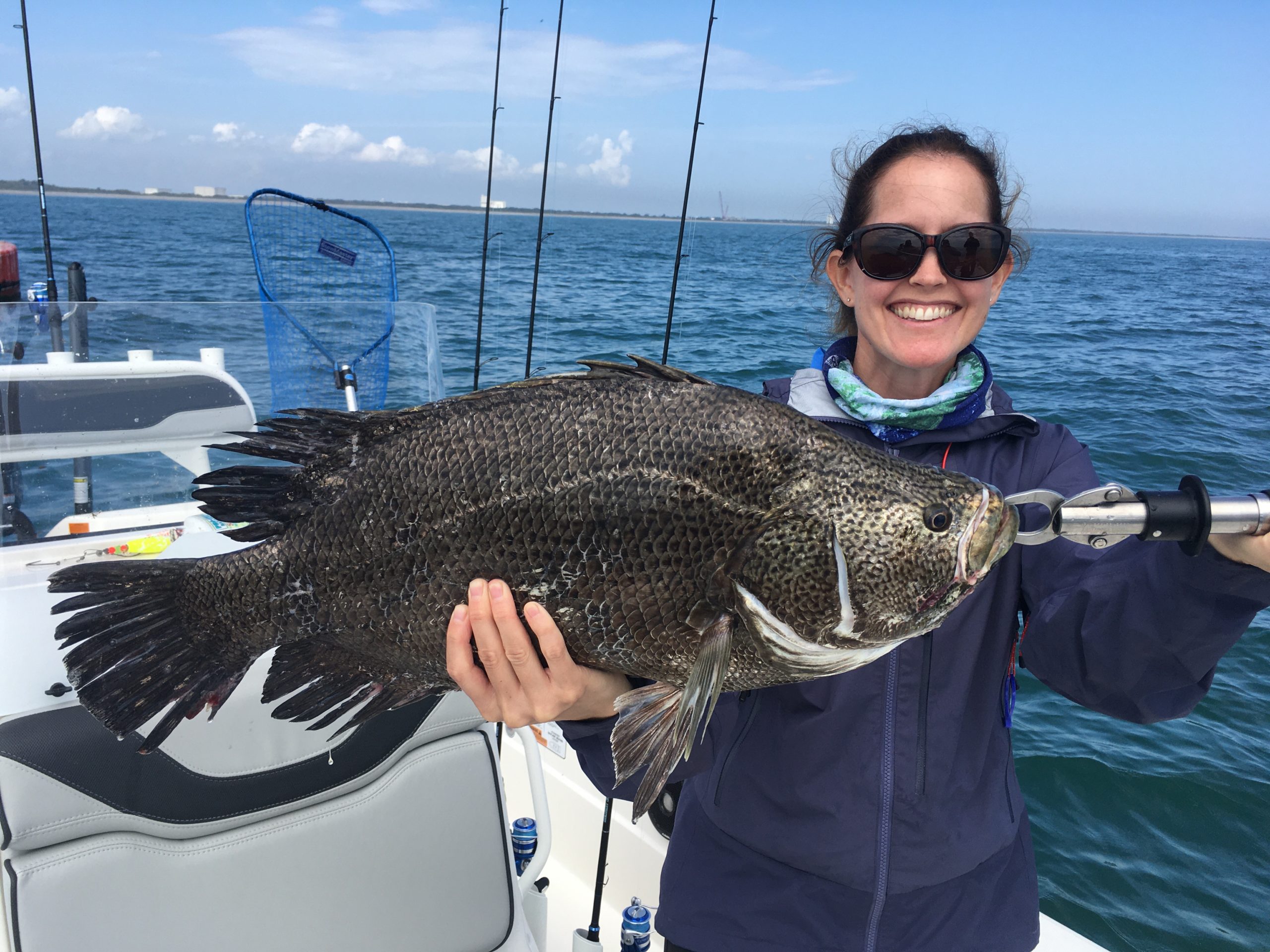 TRIPLETAIL BITE IS STRONG
This month is either a hit or a miss for us when it comes to catching fish in our near-shore waters. Fortunately for many of you that booked trips with us this February, it has a huge "hit" on most days. Tripletail- one of the best tasting fish around- were cooperative on many of these excursions. We had a blast catching tripletail up to about 17-pounds. The majority of the fish we caught were in the 5 to 10-pound class, my favorite size to take home for eating. Tripletail fillets remind me of red snapper or gag grouper fillets in appearance, but I think they taste better than those other two species do. These fish generally love to eat a live hand picked shrimp, but on some days they got a little fussy and we had to pull out one of our secret baits for them. Sorry but we can't tell you what that is, but if you were one of the customers on our boats on one of those "fussy" days, then you know what they are.
NOT MANY BIG TROUT RIGHT NOW
In Both of the rivers and the lagoon, the bite stayed fair for small trout, but the bigger speckled trout eluded us over the last few outings. This should change as we move into the March time frame though. The bigger trout in the 3 to 6-pound class start to become more aggressive out on the flats, and some lucky anglers may even land a "gator" sized trout in the 7 to 10-pound range. This will obviously depend on our bait situation. If we have a lot of mullet and glass minnows this spring we will have lots of trout feeding on them in the shallows. If it doesn't happen in March, then this action should pick up in April around Easter time. The spring full moon periods are usually when we get our biggest trout of the year.
STOOD UP AT THE DOCK-BIG MISTAKE!
We had an incredible day of fishing on the ocean recently when one of our customers decided to stand us up at the dock. It seems they went full throttle on the adult beverages the night before, and just couldn't seem to drag themselves to the boat ramp the next day. All we can say is-Sucks to be him! Not ones to let a nice weather day pass us by, Captain Justin and I shoved off from the dock to see what there was to see. We decided to play a hunch and went looking for a school of giant black drum that usually migrate through our coastal waters in early to mid February each year. Well, after looking around for a pretty good amount of time, we found them. Justin was the first to strike while casting a 3/4 ounce R&R bucktail jig. His huge drum took 25-minutes to bring to the boat, and this monster weighed in at about 50-pounds. After a few photos and a successful release, I was next on the rod. I hooked one for myself that went about 40-pounds and pulled like freight train. Justin jumped back up n the front deck and reared back on the rod to put another one to the boat that was about the same size as mine. Feeling a little "arm pump" and stretching some string felt really good. We don't usually get to sight cast to fish, hook them, and then fight them to the boat, because we're normally doing "captain stuff" trying to get our customers into the position where they can successfully make this happen. We finished off the outing pulling in a few tripletail which we invited home for dinner. They didn't enjoy their hot oil bath as much as we did. There's not too many things that I like as much as fried tripletail- boy were they tasty!!
As long as this beautiful warm Florida weather pattern holds up, we should have good options for you all to come a catch with us. Give us a call if you're ready to get out of the frozen North and want to try to catch some of these species for yourself.