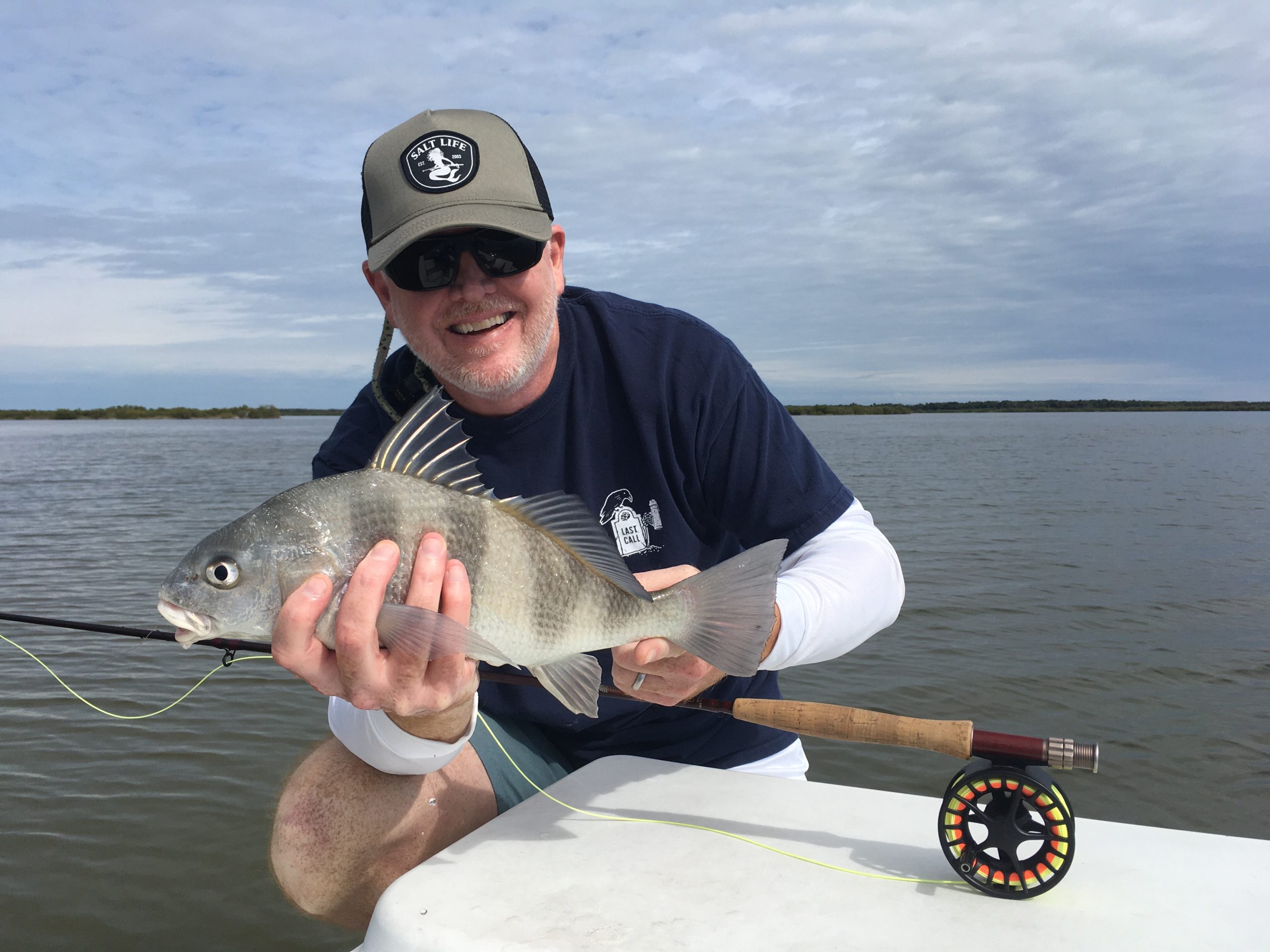 IT'S TIME TO FLY!
What a fantastic few days we've had in between the cold fronts recently. The water in the upper Mosquito Lagoon has gotten very clear after the drop in water temperatures associated with these fronts. This is making for optimal "sight" casting opportunities for anglers that like to throw a fly. Mike Young (pictured above) had to reschedule his trip that he booked with us quite a few times due to the weather before the ideal day came around. But this day did not disappoint. Mike landed multiple black drum on his 6 weight fly rod. The "top secret" fly was none other than a freshwater pattern known as a Wooly Bugger. Mike usually fly fishes in Colorado where he uses this fly pattern a lot, but the color pattern is very similar to one of my favorite saltwater patterns known as a Kwan, so we decided to give his flies a try. As you can see, the drum love them.
Mike also had a really nice trout smack this same fly for his second species of the day.
Then after a few "close calls" Mike put the fly rod down, picked up the spinner, cast a live shrimp, and landed a slot sized redfish that completed his "Inshore Slam".
CANALS STILL HOLDING ON COLD OR WINDY DAYS.
We also fished in some of the canals on the days when he winds were up or if we had multiple anglers aboard on the trip. Some of these days were very productive while a few of the others were actually quite slow. As you all know, that's how fishing can be. Our main catch consisted of speckled trout in most of the canals and deep water dock areas. Many of the trout were very nice slot-sized fish, but others were dinks. On a few occasions, like I mentioned, we couldn't even get the dinks to bite. We continue to find an occasional baby tarpon in the canals as well. On the days between cold fronts we look forward to getting back out on the flats in our extremely shallow drafting tunnel hull boat, to look for those sight fishing opportunities.
FEBRUARY SPECIAL OFFER TO OUR FISHING FRIENDS
As we have mentioned above, weather permitting, this can be one of the best times of the year to "sight" fish for reds, trout, and black drum in the super shallow areas of our lagoons. Whether you like to use artificial lures, live shrimp, or cast flies, this is an extremely rewarding way to fish. With this in mind, captain Justin and I would like to make this very special offer during the month of February only:
Book a 5-hour "flats" trip and only pay for 4-hours. That is a $50 savings! Book this type of trip for two (or more) consecutive days and get an extra hour for free! That's a 6-hour trip for the price of a 4-hour trip, or a $100 savings per day on multiple day bookings!
THIS OFFER IS GOOD FOR TRIPS BOOKED IN FEBRUARY ONLY, and does come with another stipulation- it is only good for ONE angler. The water levels in many parts of the lagoons are so low this month, we can only access these fishing areas in our 17″ tunnel hull boat. This boat is designed to fish with one angler and one captain. This combination allows us to get back into those extremely shallow areas where these fish are hiding.
So, if your ready for this special offer, or any of our other exciting fishing excursions, give us a call to set up your dates soon.
Let's go catch your next memory!