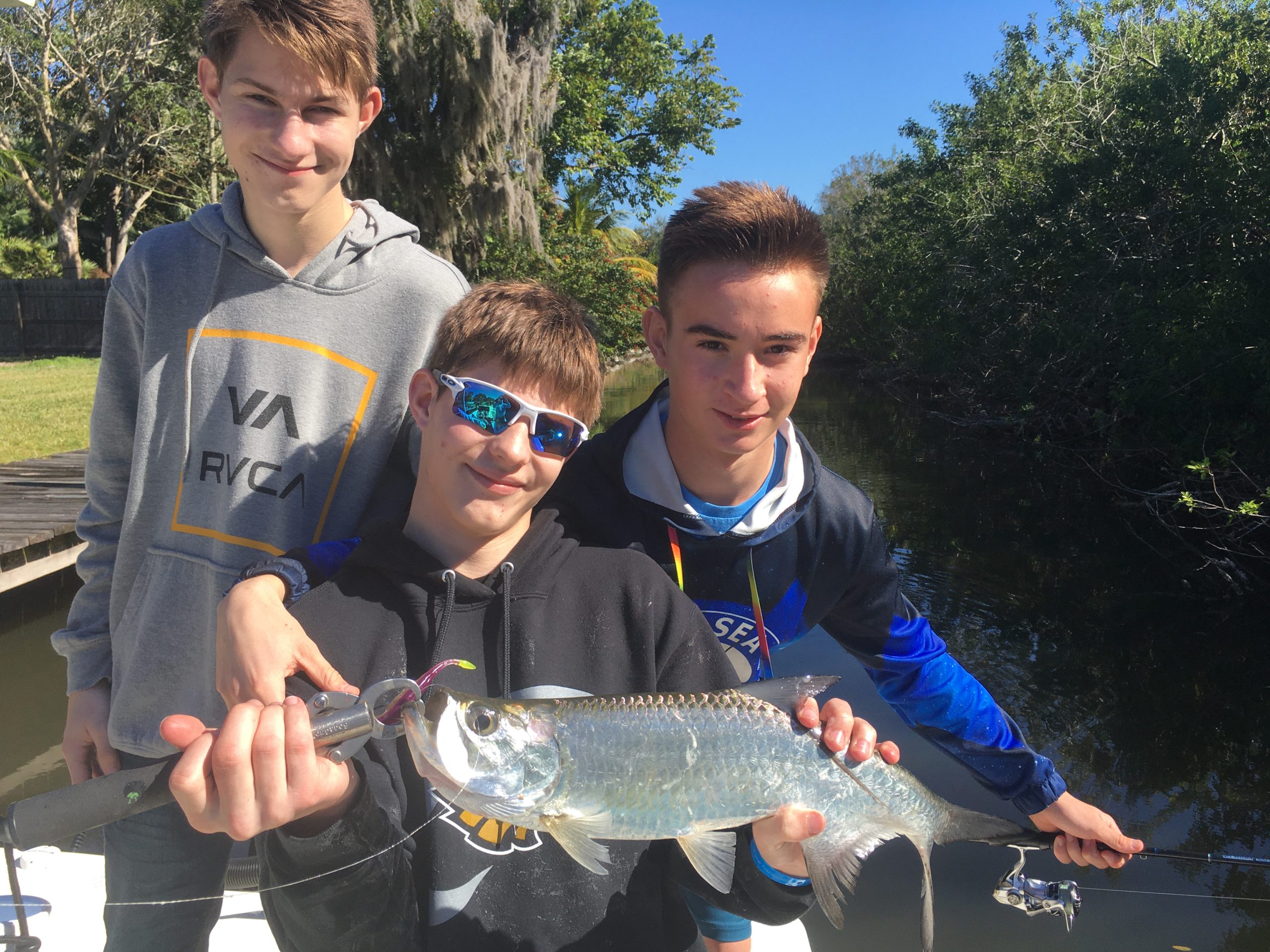 LATE DECEMBER and EARLY JANUARY FISHING
Fishing in the Indian River near Rockledge and Cocoa has been pretty good so far in late December and early January. We are catching quite a few non-typical species for this time of the year. Baby tarpon are the first of these. These cute little guys are ranging in size from 2 to 5-pounds. Captain Justin and I have had quite a few outings where we saw these juveniles rolling (gulping air) in protected canals in the Merritt Island and Rockledge areas. We are normally targeting trout, redfish, and black drum in this area but hey, we'll take a tarpon bite any day of the week. When we found tarpon we had them respond to small jerk baits, sea shad tails, and live shrimp. Snook are another species that we don't usually think of catching in the colder months of the year in central Florida, but though small, these fish are fun on light tackle.
SPECKLED TROUT ARE OUR STAPLE THIS MONTH
Speckled trout are our most consistent winter time catches. These fish love to hide in canals and near deep water docks or other structures that provide cover and insulation from the cold temperature that we get when a front blows through. Most of our trout are 10 to 14-inches long during this time of the year. On some days though we get much larger fish that run into the lower 20-inch range. Saltwater Assassin sea shad tails are our go-to soft plastic of choice for these fish. We did have some pretty slow days over the past few weeks where we only landed 10 or so fish, but on most days we were in the 30-ish fish range. Add the black drum, tarpon, snook, and redfish in to these numbers and they start to look a lot better.
BLACK DRUM ARE CHEWING
The black drum bite is good on most days during this time of the year. These fish are ranging in size from 20 to 35-pounds. Those of you that have done battle with one of these bruisers while on a fishing charter with us, know they do not come easily to the boat. Lately the schools of drum have been ranging in size from about 75 to 300-fish each. This action should continue for another three or four months.
TASTY TRIPLETAIL
Tripletail are another fish species that we target in the cooler months of the year between Cocoa Beach and Sebastian Inlet. Some days have been very frustrating while targeting these tasty fish. They get a case of lock-jaw and don't want to cooperate. We can see them in the water, or on our fish finders most of the time. When they do decide to eat, its Katy-bar-the-door, and we get to fillet some of the best eating fish we have around the Cocoa Beach area for you all.
Cold fronts sweeping through the central Florida area are the norm this time of the year, so we try to skip fishing on the day after the front. This is usually a day when the barometer goes sky high, and the fish quit biting. A day or so afterward, the fish get hungry again and we go back to catching our share.
Give us a call or book your trip online so we can get out there and catch your next memory!