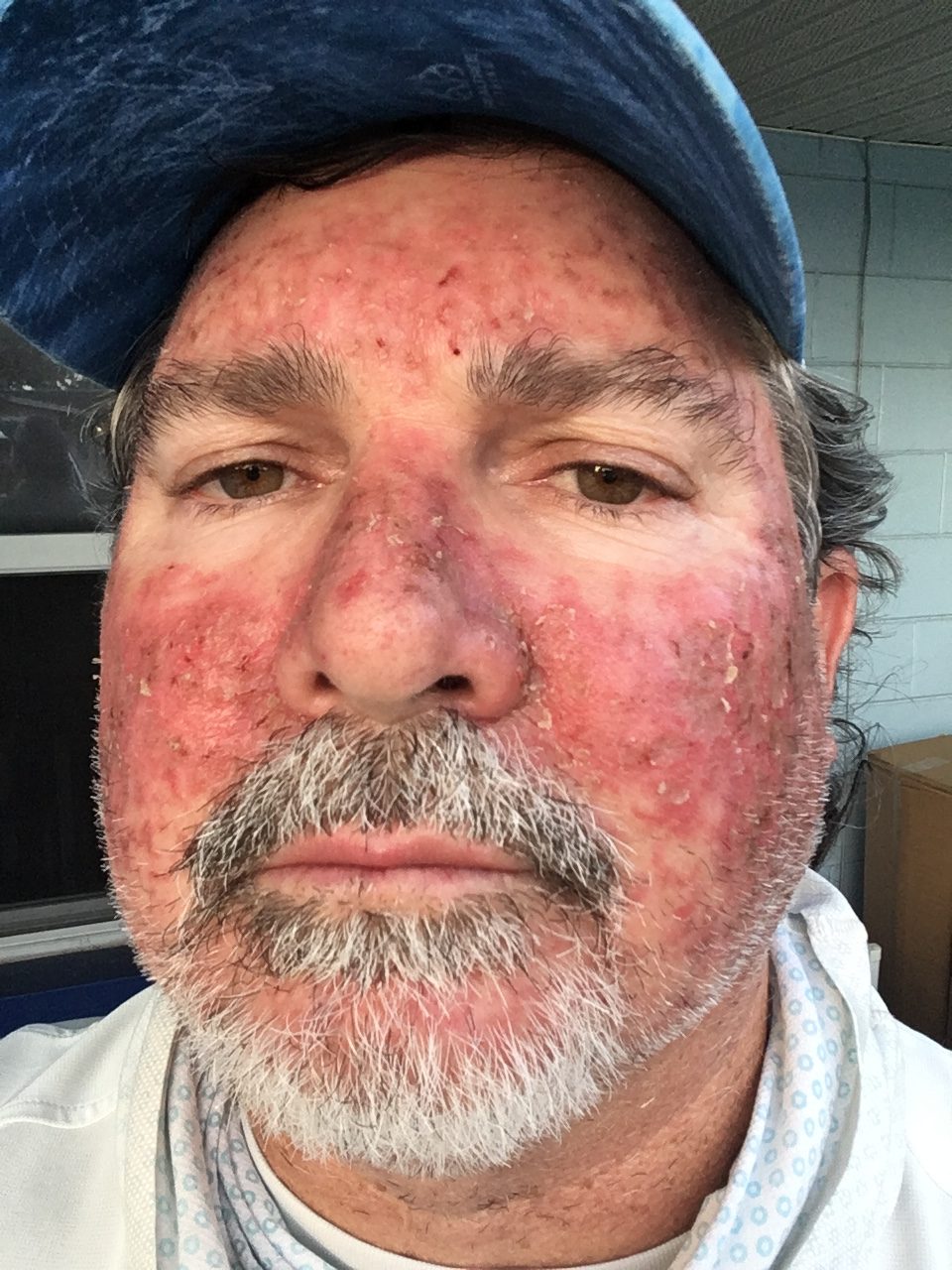 BEWARE OF THE SUN!
Captain Jim has been undergoing a sun exposure treatment by using a cream that attacks the pre-cancerous sells on his face over the past two weeks.  This is a 10 to 12 day treatment that helps kill all of the "bad" cell that can lead to skin cancer.  The results speak for themselves. Everywhere that my skin has turned red is where sun damage has occurred.  Killing these now will help lead to less of a potential to get skin cancers as time goes on.  Even though I wear sun block (usually 30 to 50-SPF) and a face covering (buff) everyday that I'm on the water, you can see that the sun still has a harsh effect on me being out in it on almost daily. 
I apply the cream to my entire face once daily.  Even though I use products to protect myself, you can see from all of the red areas, that the sun is definitely an occupational hazard.  My skin was literally burning from the treatment.  It takes until about day 14 for for your face to crack and bleed and you skin to start peeling off.  the whole process takes about 21 days to complete the cycle. This is one of the reason that we recommend sunscreen and a hat when you come aboard for a charter with captain Justin or myself.  
NOW FOR THE FISHING 
Captain Justin has run all of our recent trips because when you're on this treatment you have to stay out of the sun.  He has been sticking with the decent nearshore bite on the days he could get out there. Justin continues to put our clients on bull Reds, sharks, speckled trout, and scattered Whiting, pompano, and even a couple of flounder and snook. All of these fish have been in the Port Canaveral area primarily because of the proximity to sheltered waters from northerly winds that have been dominating our coastline.
As we move into the second half of December, we expect these same species to dwindle in numbers as the ocean temperatures fall into the middle 60° range.  Replacing them will be weakfish and bluefish as the two primary species. Triple tail may also show up in better numbers over the next two to three week period as well.  If the ocean stays calm, we should also be able to chase Cobia and king mackerel on the reefs in 70 to 90-feet of water. So keep your fingers crossed that the winds allow us to go to and play.
We would also like to remind everyone that we offer gift certificates that you can give as Christmas presents starting from $100. These are emailed directly to you from our website. Anyone interested can purchasing one (or more) for the anglers in their family can go to www.finelinefishingcharters.com/gift-certificates/ and buy them
If you have any questions about booking a charter or purchasing a gift certificate please feel free to contact me for assistance.
Captain Justin and I hope that everyone has a safe and wonderful Christmas, Hanukah, or Kwanza depending on which you choose to celebrate!
Let's go catch your next memory!