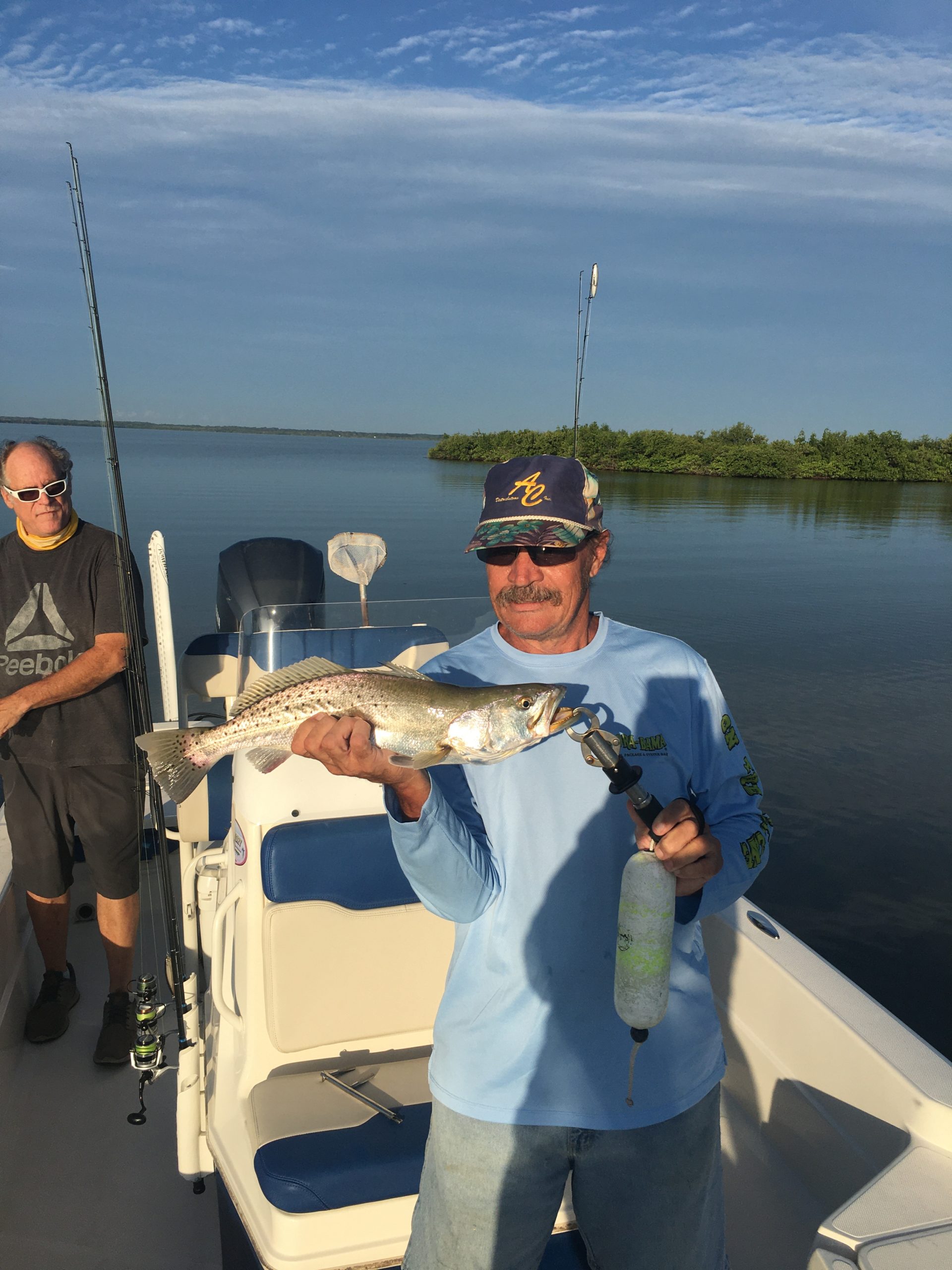 Captain Jim is still in Dry Dock.
Unfortunately after my 11-week check up with my orthopedic surgeon, I am still sidelined for a few more weeks. My Dr. wants to make sure that my fractured L-1 is completely healed before allowing me back out on the boat again. The good news is my progress is at about 80% right now and I'm feeling much better than I have over the past few weeks. The ruptured disk is also healing as expected. I'm really looking forward to getting out of the office in Rockledge and back out on the water soon. It's been way to long since I was on the deck of our 17′ Pathfinder tunnel hull, or our 24′ Skeeter bay boat. It looks like I'll be returning to duty around the mid October time period.
Wind and Rough Ocean Conditions
This weeks 20 knot winds and 10-foot seas outside of Port Canaveral have been keeping Captain Justin inshore. The good news is that the lagoons are producing some nice sized speckled trout and slot redfish once again. Justin reports that the waters near Titusville and Cocoa Beach are very turbid and algae filled. This makes "sight" fishing next to impossible. It's unfortunate that this has occurred again this year in many of the areas that we normally fish. The water levels are also very high right now. This is allowing the fish to access places that they normally can't go. In some cases we can't even get our boats back into these flooded marsh and mangrove areas because they are so overgrown. To adjust to these conditions, we set up our boats at the entry points, and use cut baits or noisy plugs like the Rapala Skitterwalk or Storm Chug Bug popper, so that the fish can find our offerings.
Strategic Positioning is Key
When using this type of tactic, you must stay far enough away from the ingress and egress points so you don't spook the fish that are trying to utilize them. We have to be careful not to put our clients so far away that they can't get a cast into the fish's travel corridor either. Our 7'9″ Memory Stix performance fishing rods allow our clients to make extremely long cast into the strike zone without tipping the fish off to our presence. Other good area to try this technique at are windward points along the lagoon or around the edge of islands. Redfish and trout stage on these features waiting to ambush baitfish as they swim by. As I previously mentioned the lagoon waters look like crap right now, and sight fishing is all but impossible. By utilizing these methods Justin and his clients are still putting quality fish to the boat.
A Look Ahead
Once the seas calm a bit, the tripletail action should start heat up along Cocoa Beach. If the mullet run is strong we may even find a few cobia showing up as well. Of course Tarpon, sharks, ladyfish, jacks, snook, bluefish, flounder, and other species will be following the migrating mullet along the near-shore waters. If you're looking to chase any of these species, make sure to check the weather and book your trip for one of these first few fishable days after the blow.
Let's go catch your next memory!