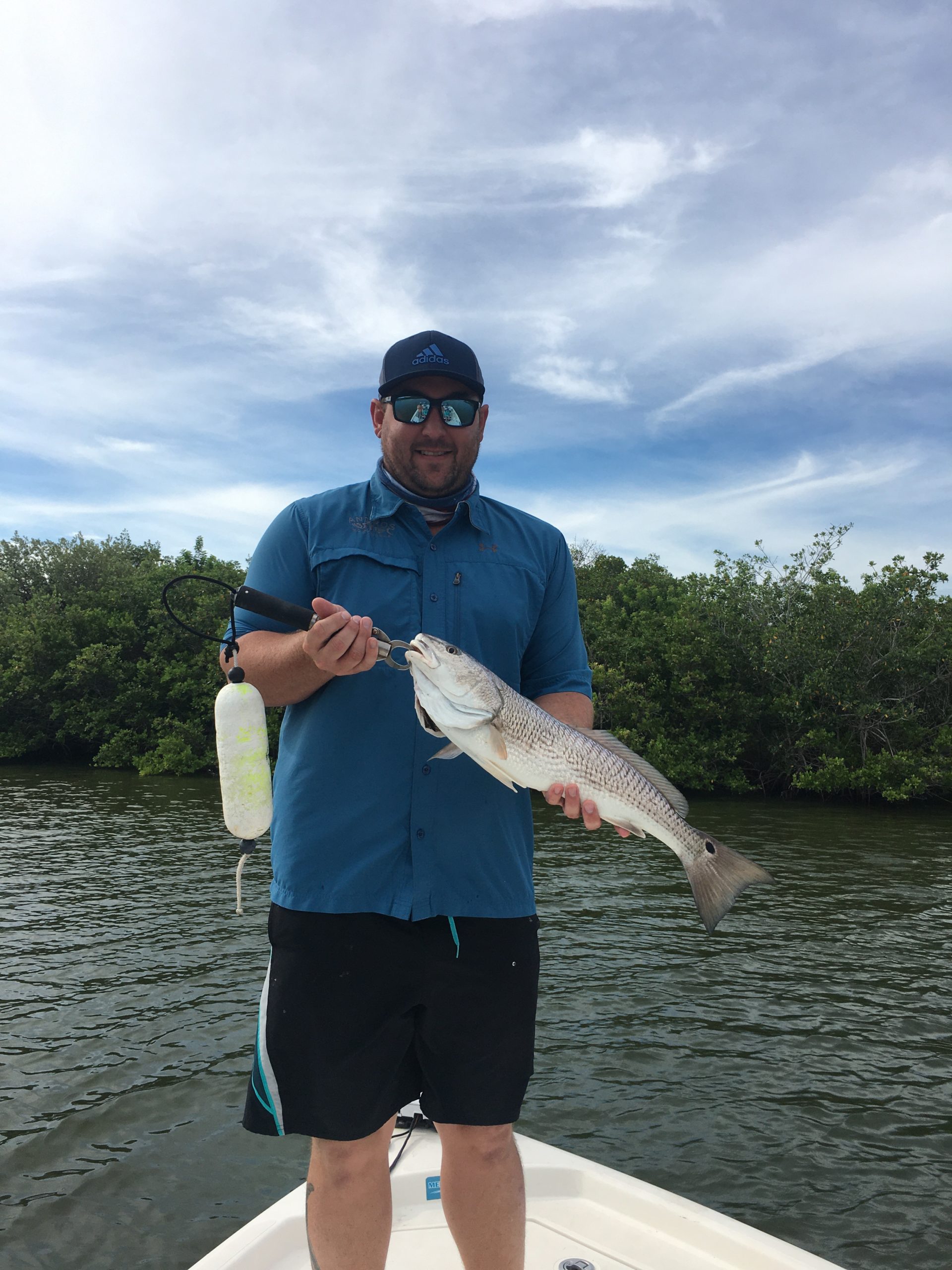 Fishing this past week was not as good as we had hoped for in the Cocoa Beach and Titusville areas, but it wasn't a total washout either. A stalled fontal system gave us rainy and windy conditions over much of central Florida for the past four days. Captain Justin did manage to get a few clients on the water inside the calmer regions of the Banana River and Indian River lagoons. Unfortunately he just wasn't able to take all his clients that booked with him last week due to the weather.
The lagoon waters are still very green in many areas. The huge algae bloom continues in both of these bodies of water. To combat the poor visibility captain Justin has his anglers casting noisy topwater plugs early or late in the day. This has lead to some great hookups on a trout, snook, and redfish. The Rapala Skitterwalk or Storm Chug Bug lures are easy to work, make a lot of noise, and have been doing a great job calling in fish on most days.
Once this artificial lure action slows, then it's time to switch gears. Cut baits have played a huge role in Justin's fishing tactics this week. Cut baits usually aren't very exciting to fish with, but there is no disputing that they are the most effective way to get fish to strike when the water conditions don't allow the fish to see more than two inches in front of their faces. Both bull and slot-sized redfish will jump on a fresh piece of cut bait.
Justin is targeting the redfish near islands and other mangrove covered shorelines. Trout and snook are possible as well, especially early in the day while using the lures mentioned above. Later in the day the cut baits will catch the trout and snook, but redfish are much more likely to pick these chunks of bait up.
We are hoping that this coming weeks weather will bring some calmer conditions along the near-shore waters. The mullet run is strong along our Space Coast beaches again this week, and if the weather will cooperate we should see some exciting catches. Tarpon, shark, bull Redfish, and Snook should be pounding fingerling mullet fished on a sliding sinker rig in the surf break. We may find Jack Crevalle, Spanish Mackerel, Flounder or Tripletail, as well. Capt. Justin only has a few days open if your interested in a charter, so please give him a call at 321-505-8217 to book your trip today.