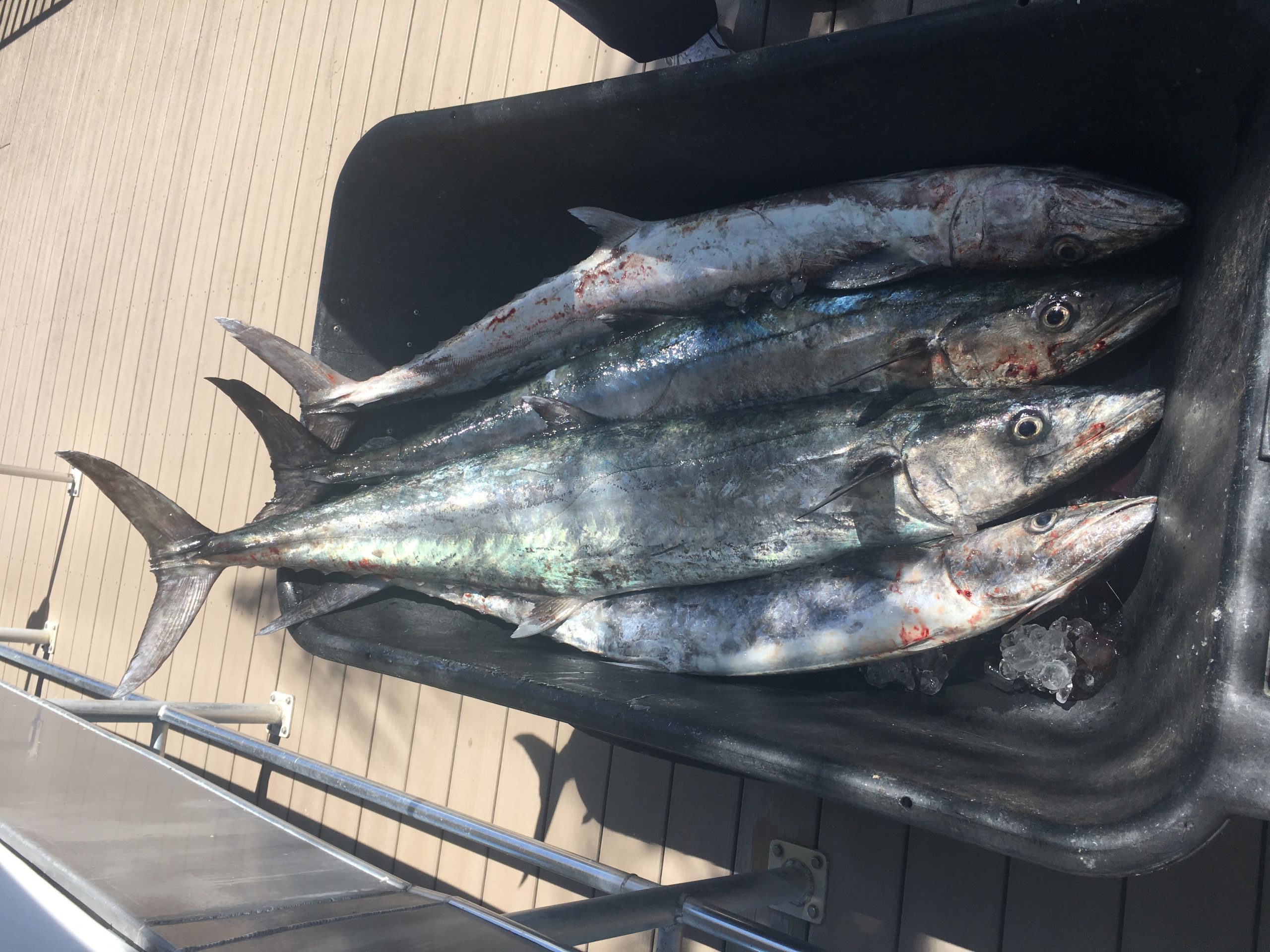 HOT AND COLD BITES TO START THE MONTH
It's been an interesting start to our September fishing charters. We usually run pretty hard the first two weeks of the month because snook season starts on Sept 1st. This year between the Covid and the weather, captain Justin hasn't been fishing nearly as much as he usually would be during this time frame. He's been blown or rained off the water on quite a few days with all of the tropical moisture and storm action we have encountered this year. Good news though, The mullet run started right on cue at the beginning of the month. This will last though the middle of October. During this time the fishing is going to get better every week until about The Halloween time frame. During last weeks trips captain Justin got some really good catches of king mackerel on his offshore trips. He had some days that were slow though with the yo-yo-ing barometer from the effects of those tropical depressions.
SCIENCE FICTION GLOWING NEON GREEN LAGOON WATERS
The water in the flats has turned an unbelievable shade of neon green with a huge algae bloom occurring over the past month. This has overtaken much of the upper portions of the Indian and Banana Rivers. There is still a decent bite where you can find cleaner patches of water, but these are few and far between in those two sections of our lagoons. When these cleaner areas are found the trout and slot sized redfish are holding in those areas. You can see then busting mullet along the shorelines. Small snook and juvenile tarpon to about 30 pounds are working these cleaner pockets of water as well.
CAPTAIN JIM'S RECOVERY UPDATE
I was looking forward to getting some great news from my orthopedic surgeon on my September 14th checkup. This is 11-weeks and 1-day since my accident. I was not only hoping to be able to start back to work in a limited capacity this month with the help of captain Justin or a mate, but also to give everyone the good news that I was available again to help captain Justin make sure that you all-our friends- were being taken care of with your charter fishing needs. After all, this is one of the best times of the year to catch quality fish with the mullet run gong on. It also time for the big bull redfish to spawn in the lagoons.
Well he told me that I was "progressing nicely". My Vertebrae is almost completely healed up and the T-12 to L-1 disk continues to move back into its correct position. He feels that I should be able to return to work in about four or five more weeks. But would make that determination when he sees me again on October 19th for a follow up MRI and another set of X-rays. You all know that I was completely bummed out about this, but I guess I need to look at it as a "positive" because at least he feels that I will be able to return to work- even if its not as soon as I would like it to be. So, I'm doing my walking, stretching, chiropractic, and physical therapy until then. Because I cant wait for my re-evaluation next month, and hope to be out on the water with you all again real soon.