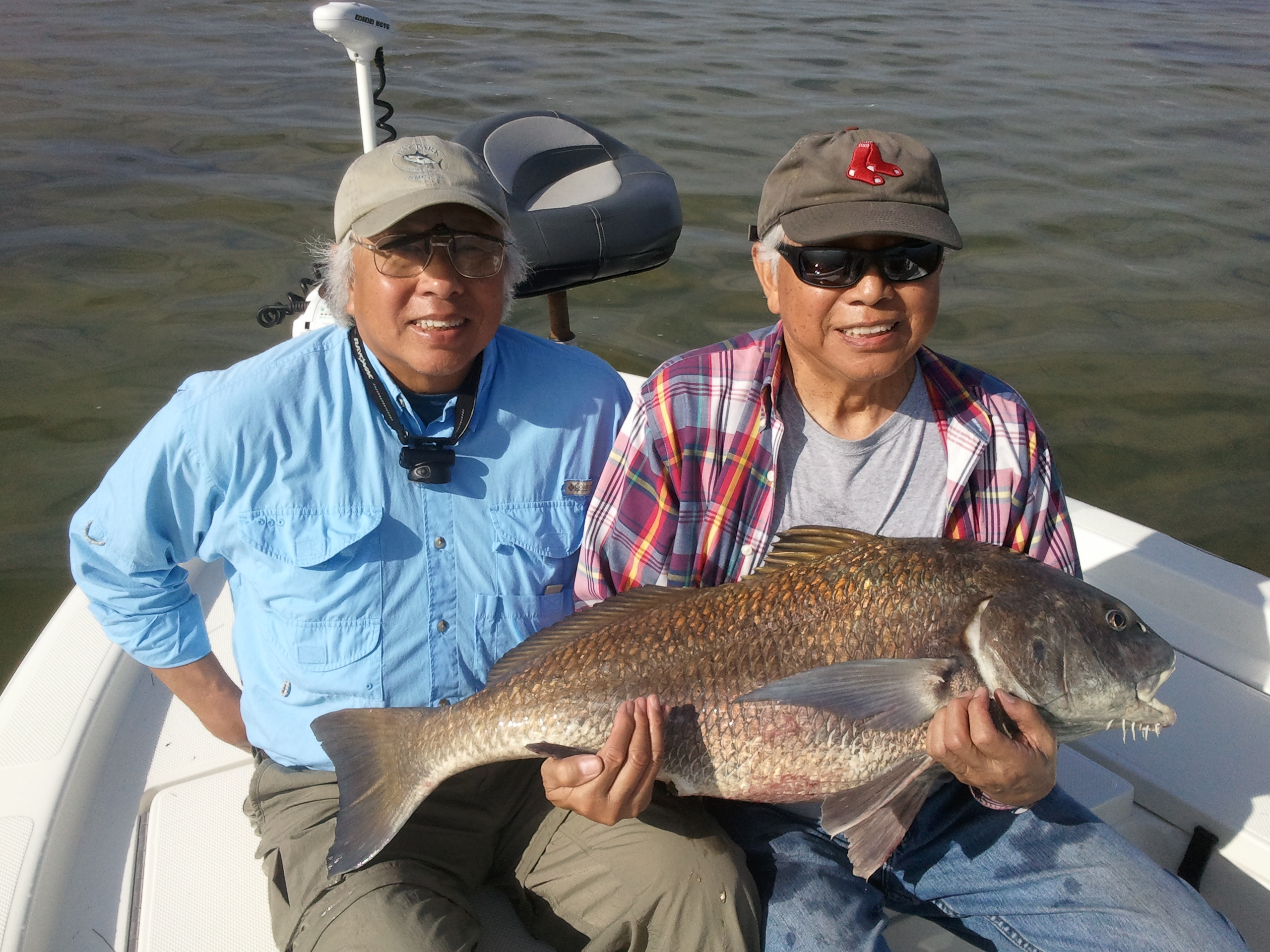 The cold weather is gone! (at least for now)
Well it seems like winter was short lived hear this January. We usually get a very cold blast in the second week of January, and we did get some cool weather, but the nighttime lows only got into the upper 40-degree range hear on the Space Coast. Cocoa Beach and other areas east of Orlando usually get weather approaching the freezing mark or below during this month, but so far it has been in the upper 60's at night and then hitting the lower 80 degree range during the day. The sun has been out and the breeze has been up to make for very comfortable fishing excursions for our charter customers. Honesty it feels more like springtime than winter-that's for sure. The black drum and speckled trout bite has been really good with the current weather and water conditions. Black drum of all sizes from 1-pound to 35-pounds are possible in the Indian and Banana River lagoons between Merritt Island, Rockledge and Titusville. Captain Justin and I are catching the smaller fish on shrimp. For the larger black drum a Saltwater Assassin 4-inch sea shad tail in the Pimp Daddy color tipped with a piece of Fish Bites or fresh shrimp is our preferred lure and bait combo.
Speckled Trout action is still going strong.
Our speckled trout action slowed for a few days during the recent cool front, but it fired right back up toward the end of the week as temperatures climbed into the 80's. That is one of the great things about living and fishing here in the central Florida coast. We may get a day or two where the winds form a cold front slow the bite, but it doesn't take ling before they start chewing again. If you have fished with us you know we love our Saltwater Assassin lures. Why? Because they work! Once again these are our "go-to" soft plastics for when targeting trout in the 12 to 18-inch range. The Magic Grass color seems to be working best on the fish we have landed in the Merritt Island and Titusville areas this week. Casting along mangrove covered shorelines in some of the deeper water canals is allowing our guests to land 20 to 40-trout per day.
Catch a Memory Outdoors Radio Show
Saturday 01-11-20 with Ofishal Insider from the Florida Insider Fishing Report TV show.
Captain Justin and I had special guest Brie Gabrielle (A.K.A. Ofishal Insider) along with RM Media's Courtney Hueston, and Captain Mark Gibson in the studio with us on this past week's radio show.  You can hear it in our podcast archives! Then, we went out to shoot a segment for RM media's you tube channel.  We had a fun time, shot some good video, and landed a lot of fish.  More to come on this in the next few weeks.
New pricing schedule for 2020.
We have revised our flats/back country, shark, tarpon, and offshore reef and wreck offerings for 2020
Please check out our new offerings with adjusting rate for each on our website now.  WE also offer a "Frequent Fisher" discount program for those of you who want to book more charters with us this year.  You can check our updated offerings on our rates page!
Until we fish together again….
Lost and Found
I still have a fly rod tip section that someone left on the boat last year. If you need it please contact me.