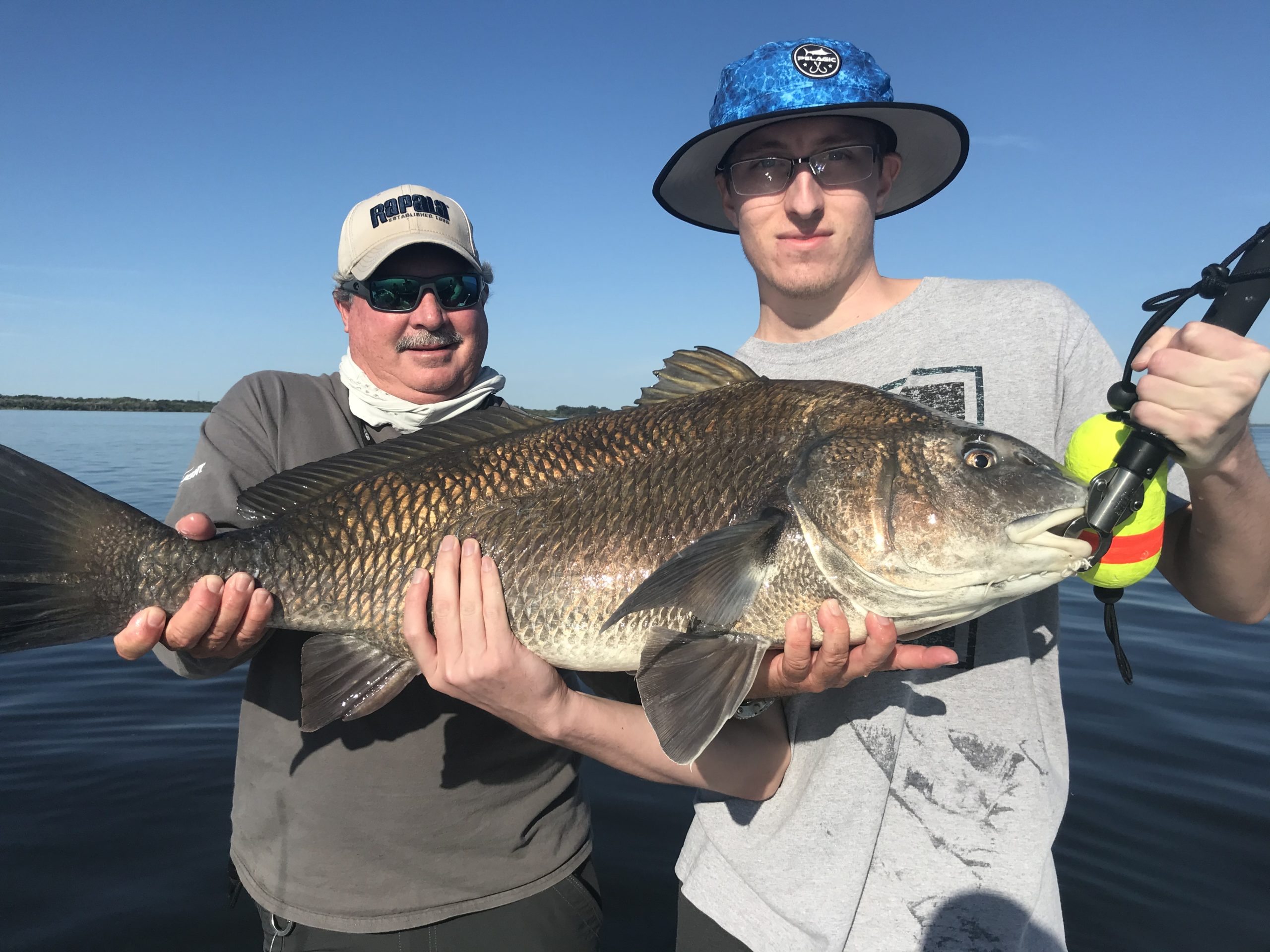 Cocoa, Cocoa Beach, and Titusville inshore action is hot!
It has been another great week of fishing for black drum in the Indian River lagoon. The fish are big and plentiful at this time of the year. On days that the winds stay below the 15 MPH mark, we can usually find a school (or sometimes two) that can sometime number into the hundreds of fish each. For those of you that haven't been on a fishing trip with Captain Justin or myself when we are targeting these drum, you can't believe how hard they fight. We prefer to use soft plastic artificial lures like the Saltwater Assassin 4-inch sea shad or Storm coastal 360 GT Shrimp tipped with a piece of Fish Bites scented fish lure. We are normally vertically jigging for the drum in the Cocoa and Titusville areas, but on some days we find schools of them roaming the flats, especially in the Coca Beach area near the 1000 Islands. Live shrimp will also work for these fish and we generally rig them on a 3/0 size circle hook or 1/8 to 1/4 ounce jig head.
As we get farther into the winter months, we will continue to fish. At this time of year we usually skip our usual early-morning start times, preferring to move our launch times back to the mid-morning periods when the temperatures are usually less chilly. This allows us to meet many of our customer at a local restaurant for a nice warm breakfast before heading out on the water. One there, our focus will be targeting areas that have good protection from the wind with southern exposures so that the sun can warm the waters there a degree or two and get the fish moving around and feeding for us. Some of the better areas to do this in are near Oak Hill, Titusville, Cocoa Beach and on some days Sebastian. We want to put you in area where we think the fish will bite best on that given day, so sometimes we will call an audible the morning of your trip if we feel the weather man missed it on his forecast.
Cocoa Beach and Port Canaveral near-shore action
Since the offshore waters usually stay pretty stirred up throughout the months of January and February, we tend to stick closer to shore and usually don't venture out past the three mile mark at this time of the year. Tripletail, bluefish, whiting, sheepshead, and pompano are the most prevalent species we find here right now. Weakfish (similar to speckled trout) may also show up in good numbers if the ocean water temperatures dip below the mid 60 degree mark for extended periods. Live or cut shrimp, goofy jigs, and small nylon or bucktail jigs tipped with Fish Bites or Sprayed with Bang! shrimp scent are all it takes to get the action started on our trips out of the Port.
So if you don't like to sweat, but do like to sleep in a little and still catch fish, the winter months are a good time for you to come out on our boats and enjoy some relaxing time on the water.
Don't forget to download our new "Memory Stix fishing rods app" from the app store so you can follow along with all of our fishing trips, weekly radio shows, and other things that we are doing from week to week.
We look forward to the next time that you can come out and catch your next memory with us.