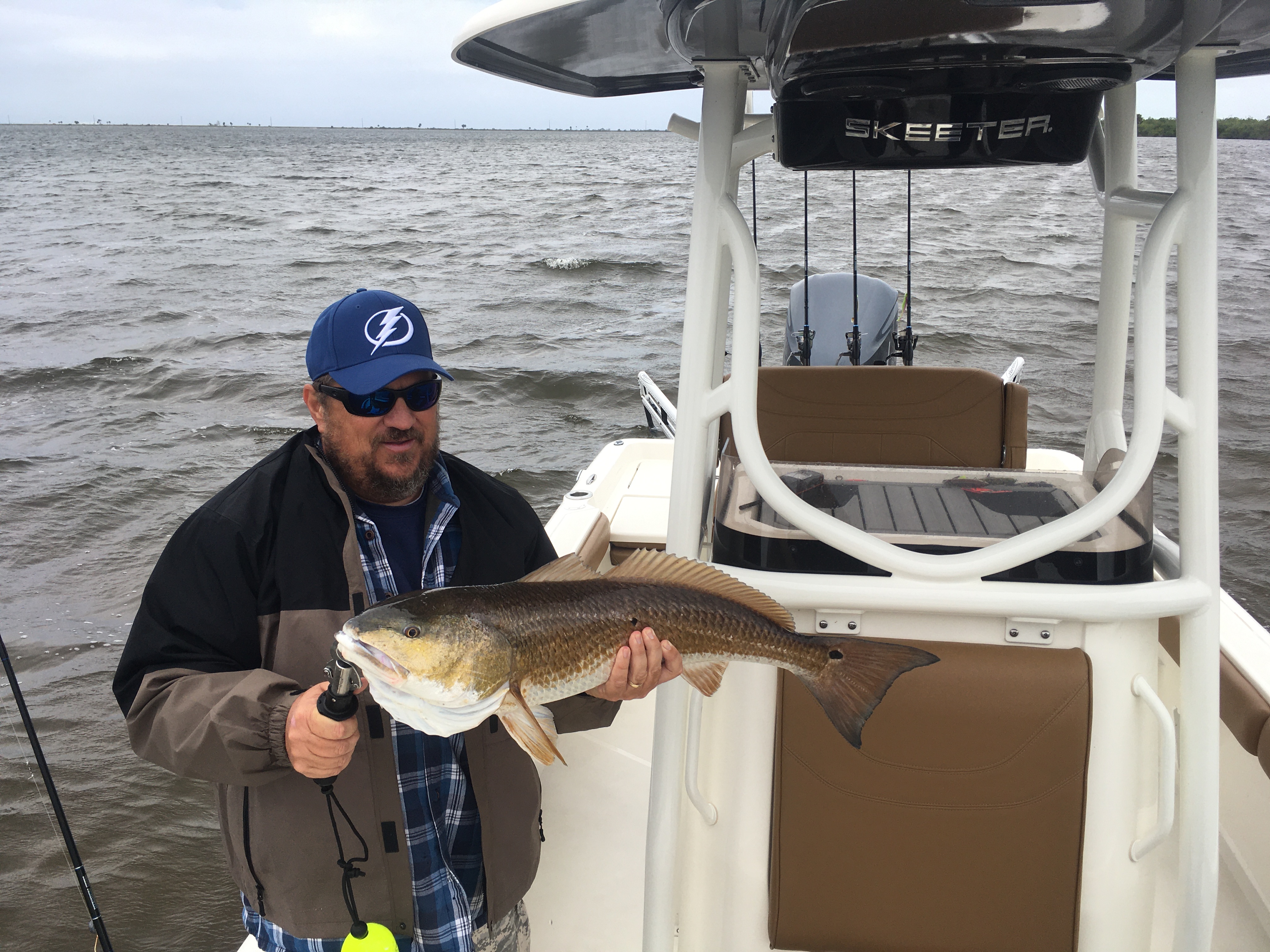 Its been another fun few weeks of fishing here at Fineline Fishing Charters. Captain Justin and I have had some really productive fishing on some days and a lot of fun with our charter friends on the ones where the fish didn't want to bite as well. The weather is changing on the central east coast of Florida, but redfish, trout, tarpon, sharks, and other species are finding our lures and baits and putting bends in our client fishing rods on most days. We even fished on the morning of Nov. 13th with 20 knot winds and drizzling rain and managed to get one of our clients (Joe Daley) an inshore slam of tarpon, redfish, and speckled trout.
We got to watch a really cool rocket launch from the Kennedy Space center.on Monday November 11th. Aboard the boat, I had the pleasure of fishing with three generations of anglers on that day as well. It is such a cool feeling to be a part of outings like this. These are the types of trips Captain Justin and I like best. Getting families out to spend quality time together makes us smile.
Some weird species also struck our Saltwater Assassin jigs on a recent trip.
The redfish and trout bite in the Indian River From Rockledge to Titusville continues to be pretty good right now. The water levels are still high, and this is holding mullet of all sizes close to the shorelines. This, in turn, is keeping these two game fish species here as well. A few snook, tarpon, bull shark, and ladyfish are filling in the gaps during portions of our fishing day between reds and trout on most of our flats and back country outings. We got fish on topwater plugs on most mornings, and we tried out some new lure colors and found the Purple Moon 4-inch Assassin sea shad was working very well on the reds and trout on some days.
What's next…
We are really looking forward to some slightly calmer weather, so that we can get back out on the near-shore ocean waters. During the second half of November and throughout December, Tripletail, bull redfish, sharks, pompano, whiting, jack, Spanish Mackerel, king mackerel, and bluefish are waiting for us to come out of the Port to play with them. These species should be around through the Christmas break, we just need the winds to lay enough that we can get out to meet up with them.
I'm at the end of the demo period for the new Skeeter SX-2550 boat that I've been using lately. The SX-2550 has proven to be a solid performer, and I may look at choosing this model to run charters out of in 2021…We'll see.
I'm really excited to announce that my 2020 Skeeter SX-240 will be arriving soon and will be rigged and ready for service by early December.  As a special "Thank you" to all of my current and past charter fishing friends, I would like to offer this special promotion.   Anyone who wants to book one of the following dates on this new Skeeter SX-240 will receive a $50 discount on a half day trip or a $100 discount on a full day trip.  The dates available for this offering are December 4, 12, 19 and 20.  Once there gone, there gone!  If interested please call me (321-636-3728) with one of these dates that you want to book, and I'll apply your discount to the trip.  First come, first served, so let me know ASAP!
I want to mention once again that I found the fly rod tip that went missing after a trip earlier this year. Please give me a call if you lost it, and I'll get it shipped out to you right away.
Also, don't forget to tune into our weekly radio show.  You can hear Captain Justin and myself live on Catch a Memory Outdoors Saturdays from 7 to 9 am on WWBC 1500 am.  You can also listen to the show on the WWBC app on your phone, or online at www.catchamemoryoutdoors.com. The web site also has an archived podcast of our show each week.  Click on the archived tab and choose the date you would like to listen to.
Until next time…Catch a Memory!