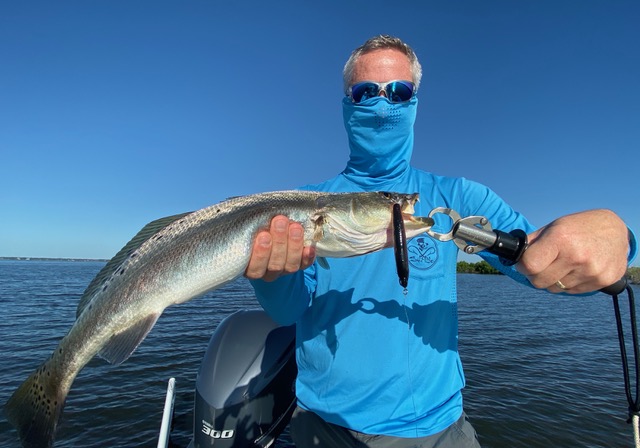 The final week of the month of September was about as good as they get. I would start my fishing clients off each mornings with an awesome exhibition from the speckled trout. These fish are blasting surface plugs from sunup until about 9 am each day. Rapala Skitterwalk and Storm Chug Bug lures are creating some fast paced action on fish to 4-pounds. Once the surface action slows, I've found that we can extend the bite about 30 to 45-minutes by switching to sub-surface lures like the Rapala Twichin' Minnow and Subwalk models. All white or anything with orange on it seems to stand out, and the trout seem to prefer these two colors right now.
After about 9:30, the northerly morning winds would drop each day, and it was time to go searching for the big schools of black drum.  Most of the fish that are in these schools are running 20 to 35-pounds, and they can gather into groups that are 300 to 400-fish strong.  Locating them has been the trick.  They are not easy to spot because they have been holding in 5 to 8-feet of water on most days.  They are also very easy to loose, when you do find them, if they do not stay up near the surface where you can see them to track their movements.  I've seen some big redfish mixed in with the drum on some days as well, but we haven't managed to get these bulls to bite for us yet.  The bigger "bull" reds are gathering into their spawning groups right now as well.  I have not been chasing them so far because I want to let them do their thing.  Our lagoon needs all the restocking efforts that these brood stock fish can provide at this time.  Now that the full and new moons have past for the month of September these fish will slow down on their spawning activity, this is the time of year that I like to start chasing these bulls around.  You all can look for plenty of big redfish pictures to start showing up on my Fineline Fishing Charters Facebook posts over the next few weeks.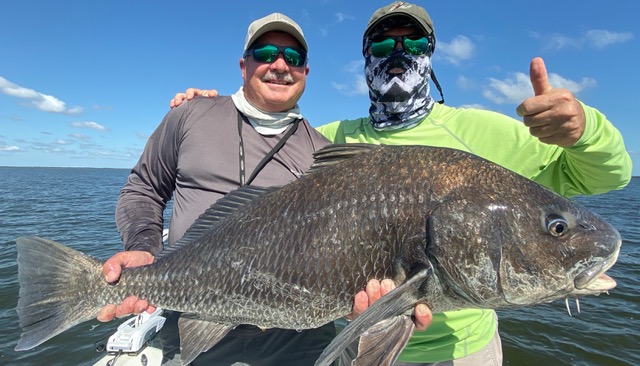 With numerous hurricanes churning up the Atlantic Ocean almost everyday this month, it has been very difficult to get out there to fish the mullet run on a consistent basis. Hopefully we can get a reprieve from the constant 4 to 8-foot swells that these storms have been generating, so that we can get outside to play with the snook, flounder, tripeltail, tarpon and other predators during the month of October.