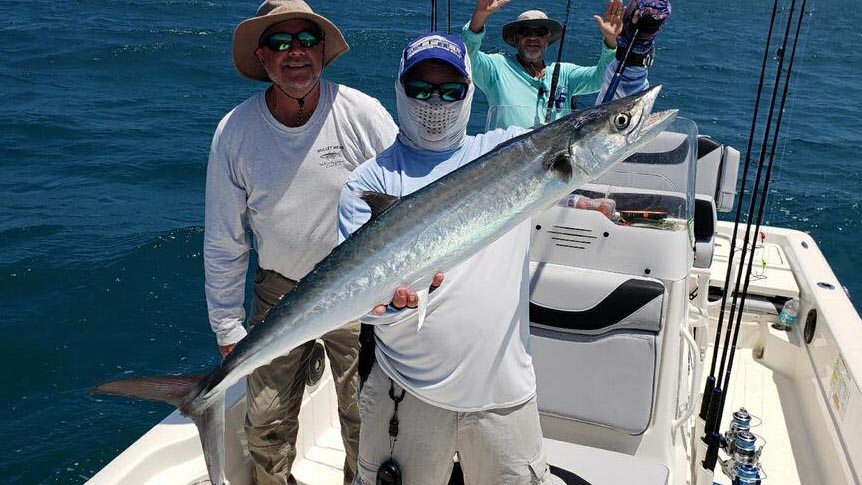 This week captain Jim and I have been searching high and low for our seasonal tarpon schools to show up. Every year around this time, we have a mass migration of tarpon into our near-shore waters and rivers.  W spend most of the summer chasing these fish.   The average tarpon we get in the east central Florida waters are between 80-100 lbs, and some of these tarpon can reach 150 pounds.  Our preferred baitfish to use for the tarpon are pogeys or greenies. We like to rig these baitfish on a 7/0 or 8/0 VMC circle hook.  We then slow troll or drift these live baitfish around the edges of bait pods that we find along our beaches.  Tarpon often come into our rivers and lagoons.  These same techniques can prove to be very productive here in the Indian or Banana River as well. While searching for the tarpon along the cocoa beach and Sebastian areas we also catch king mackerel, big jack crevalle, bonito, barracuda, and a huge variety of shark species.
Another big fishery we have in the summertime is on our near-shore wrecks and reefs.  Here we find a variety of snapper species, cobia, sharks, and king mackerel, jack crevalle, stingrays and huge goliath grouper. We like to use live baits when fishing on these structures.  The same baits we use to target fish off the beaches often do the trick.  ON some of these structures we can use artificial lures as well.  Sinking and suspending lures like the Rapala Heavy Cast, or Long Cast Shallow, are two of our favorites.  These trigger explosive strikes when ripped back to the boat at a high rate of speed.  Vertical speed and flutter jigs often get bites around these areas too. Trolling over top of the reefs has been a good way to get king mackerel as well as some small dolphin (Mahi Mahi) in the past few trips. The recent full moon in the middle of the week threw the fish off for a couple of days, but it seems that as we get further and further from that moon phase, the fish are turning back on and are more willing to feed during the daytime again.
Inshore- In the Indian River and Mosquito Lagoon, the speckled trout have been a little difficult on most days.  The black drum, redfish, and lady fish have picked up the slack for the specks though. The redfish can be caught on the 08 sized Rapala Skitterwalk walk-the-dog style plugs early in the morning before the sun comes up.  Once this bite turns off we are switching to chunking with cut baits or casting with Saltwater Assassin 4-inch sea shad tails on a 1/8th ounce jig head.  This has allowed us to continue getting fish to bite well after the initial daybreak period.
The black drum have been feeding on shrimp and crabs around the drop-offs in the deeper portions of these waterways.  These fish may also appear on the shallow flats in the Indian River on some days.  When they can be found in these shallows we often target them with small bucktail or nylon jigs.  We tip these with clam, crab, or shrimp flavored Fish Bites.  Black drum have poor eyesight, so by adding the Fish Bites attractant they can smell our offerings, and find them much better.  The fish bites are made from real baits and are a difference-maker for us when targeting the drum.  We also get them to strike free lined live shrimp at times.  We rig the shrimp on a small jig head and drag it along the sand and the drum normally pounce on them.
Other species we are encountering while in the lagoons and rivers are ladyfish.  These fish look like skinny tarpon.  They primarily feed on the small glass minnows.  Pods of these minnows seem to be everywhere in the river over the past month or so.  It never hurts to take a small Saltwater Assassin sea shad and throw it anytime you see a school of glass minnows, especially one with sea birds working over the top of them, because a variety of predatory fish can be lurking below.
If you are interested in catching any of these fish, or want to find out what is biting later in the season, please give us a call so that we can answer your questions.  If you know what you would like to target, and when they are usually biting, you can go to our reservations page on our web site (www.finelinefishingcharters.com) and book your next trip with us online.
We look forward to getting you out to catch your next memory!!
Captain Justin Ross