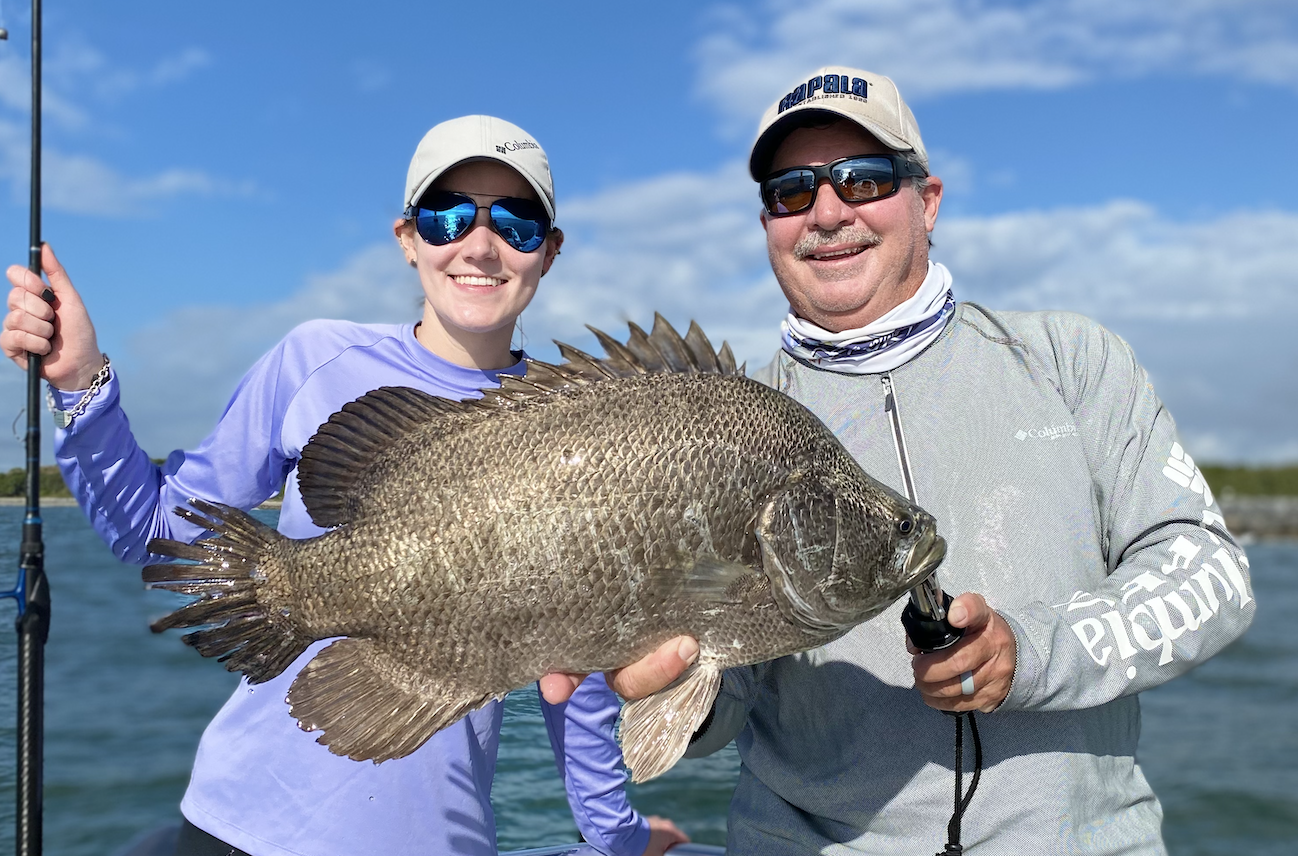 Fish With Three Tails
As expected the tripletail have shown up in our near-coastal waters right on time. The water temperatures have been holding in the upper 60's to lower 70's during the last few weeks, and these tasty fish are here in really good numbers. The bite is solid on most days. The majority of these fish are legal sized, so we have invited many of them home for dinner.
Tasty Fillets
Black drum are the second species that have been bending our rods on recent outings. Many of these are our "winter fish" that usually run 3 to 5 pounds. These near-coastal fish have very sweet tasting fillets, unlike the drum we normally catch in the river that can have a muddy taste to them. Rigging for these drum is very simple. We use live shrimp on a jig head or split shot rig with a 2/0 to 3/0 circle hook.
Aggressive Bycatch
Sheepshead have been a bycatch on many of our near-coastal tripletail and black drum trips. They become much more aggressive during the winter months for some reason and will actually strike live shrimp on a jig head very well. Most of these fish are just over the legal limit of 12-inches, so they also can be invited home for dinner.
Chamber of Commerce Weather
During the first week or two of December we often get a really great stretch of warm stable weather. This year it happened this past week and the fishing was incredible. We landed shark to 120 pounds on topwater plugs, sight cast to cobia following manta rays, had one of the best snook bites we've seen all year, along with catching excellent numbers of the other species that I've mentioned previously in this update. The next two months will not be as warm as it is right now, but when the cold weather hits we can have very productive days in our lagoons. Trout, Sheepshead, redfish, and black drum will be the most abundant of the fish species that we will be able to target, so don't wait, book your outing with captain Jim or captain Justin for a January and February excursion today.
Annual Florida Keys Date
Captain Jim and Captain Justin will be returning to Islamorada in the heart of the Florida Keys next May to chase tarpon, snapper, redfish, snook, trout, and others popular species. If you are interested in booking any of their available dates for this special excursion please contact captain Jim ASAP via email or phone. We will be running full day (8-hour) trips out of the La Jolla lodge from May 19 to May 26th, 2022. Our standard full day rate of $800 per trip for one to two anglers will apply. Extra angler upcharge is $75. We hope each of you have a very Merry Christmas holiday season and look forward to servicing your charter fishing needs in 2022.