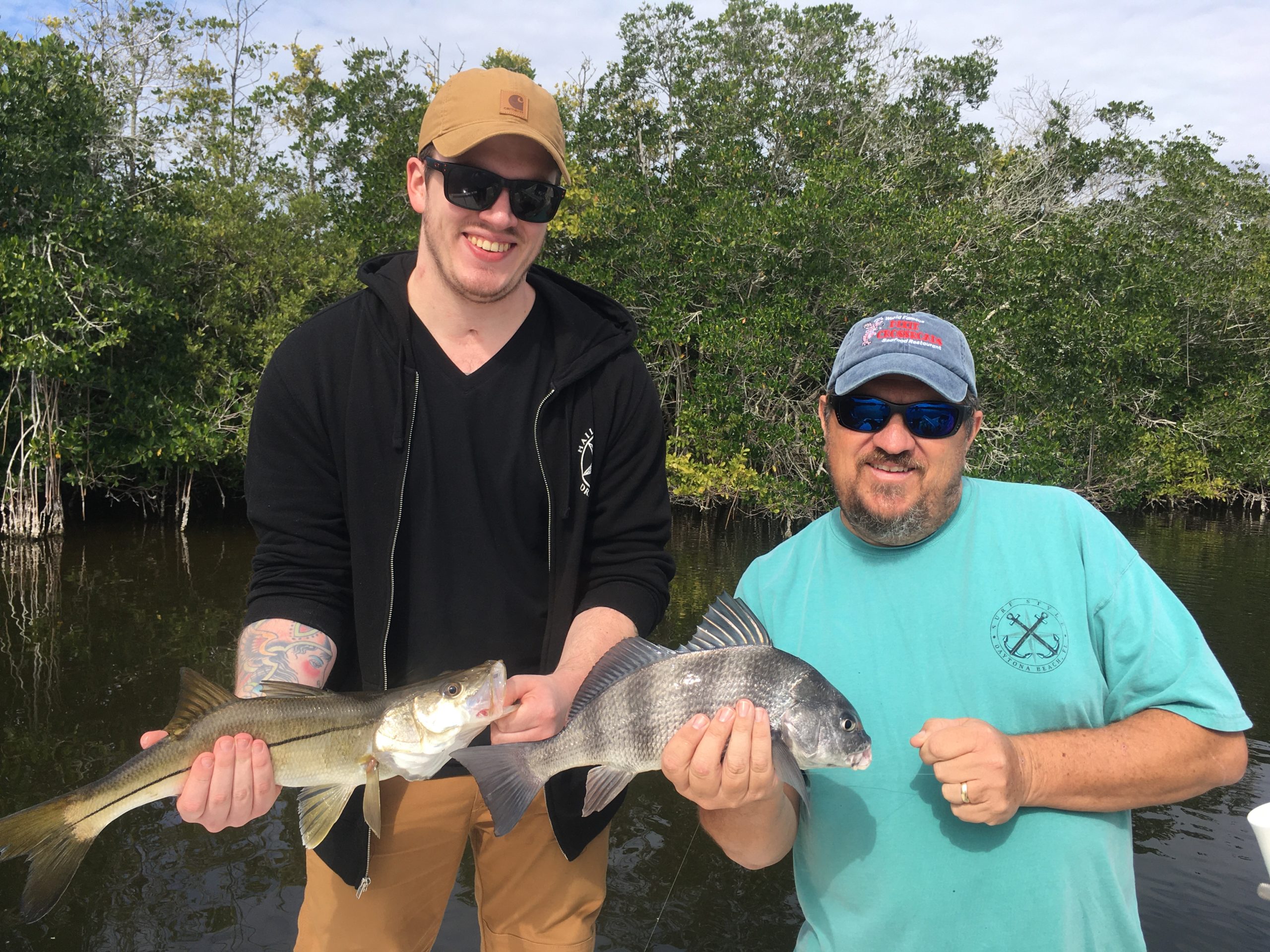 Wind and rain have been the normal weather conditions for much of the week here along the space coast area near Cocoa Beach. We did get a chance to get out on one or two fairly nice weather days and had a lot of fun. Joe Daley and his nephew Kevin who was home from a tour of duty on one of our air craft carriers-the Abraham Lincoln. These two had a nice peaceful day catching black drum, speckled trout, and even Kevin even landed a small snook which is not normally a common site during our winter months.
On another day we fished in the Indian River lagoon near Cocoa and Rockledge, which is due east of Orlando. I had the pleasure of having Jesse and his wife Gayleen from Kansas along with me on this day. I told them that we really needed some sun. If it didn't come out the fish would not be happy. At this time of the year when they don't see the sun, they don't usually eat very well. So rainy and overcast days usually don't produce the numbers of fish that we catch on sunny days. We were in luck, and got about a two hour window of clear sunny conditions. This is when the fish turned on like a light switch. They got 7 or 8 black drum, and about a dozen trout, plus some sheepshead during those ideal conditions.
Over the next few weeks we will still be dealing with cold fronts pushing through about every 4 to 5 -days, but on the days in between these fronts the fish should continue to chew fairly well. Speed weeks, bike week, and spring break are all just around the corner, and cobia season is quickly approaching. These all happen in the March and April time frame.
If you haven't yet chosen a day or two to get out with us this spring, please take a look at our available dates. They are filling fast, and we don't want you to miss your chance to get out on the water with us to catch your next memory.
I still have a fly rod tip section from one of my trips last spring. Please give me a call if you want it shipped back to you.
Till we fish again….