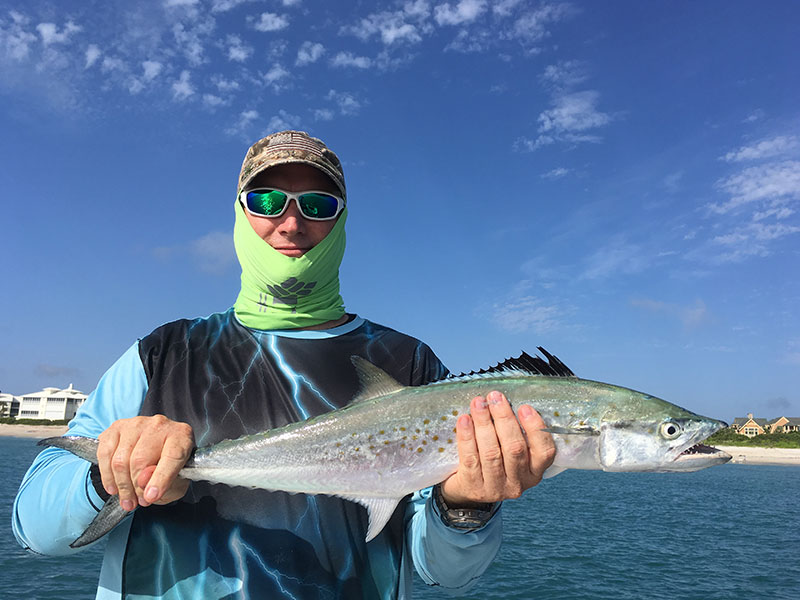 You've heard of snow birds- now it's time for some snow fish.
As the fall months turn into winter here in central Florida, Captain Justin and I start to search for a variety of different species that start showing up in the Cocoa Beach, Titusville, and Sebastian areas. Weakfish, flounder, sheepshead, and whiting are just a few of the "new" fish species that become our primary targets in the winter time. The four I've mentioned are very good to eat, unlike our speckled trout and redfish that usually have a muddy taste to them because they live in our lagoon waters year-round. These wintertime "snow fish" migrate south to our area during this time of the year as the coastal waters of the mid-Atlantic states cool into the 50 and 60-degree range. Bluefish, Spanish mackerel, and tripletail are other popular "eating" fish that we enjoy chasing on days that the weather allows us to get out along the beaches. Our artificial lure selection gets micro-sized when we're targeting the species I've mentioned. Small "goofy" jigs, silver spoons, and suspending or lipped diving plugs become our go-to lures out here. Live or cut shrimp, sand fleas, and small fiddler crabs become our natural baits of choice. Since most of these fish primarily eat crustaceans, we try to target them with smaller fishing gear and things that imitate a shrimp or crab. For some of these species we slow our presentations to a crawl. This does seem to work, and by exercising patience, we often get some tasty fillets as our reward.
In the Indian River Lagoon and Banana River Lagoon, just east of Orlando, our trout, redfish, and black drum seek out deeper holes to stay warm in these cooler winter temperatures. To target them we often fish shorelines with southern exposures that have deep water close by. These shorelines warm more quickly in the winter sun and are usually protected from north winds that blow cold even here in the sunshine state. The ocean temperatures are generally 5 to 10-degrees warmer than the lagoon waters, so we try to target the incoming tides when fishing in the Sebastian Inlet area of the Indian River.
Later start times and a more laid-back style of fishing are the norm for our wintertime customers. You get to sleep in a little, and enjoy that second cup of coffee, before heading out to get your rod bent. If you enjoy these sorts of things then our December through March fishing excursions should fit right into your lifestyle.
Recently while speaking with a few of our customers, it became apparent that we should offer packages for anglers that want to fish with us more frequently than once or twice a year. Justin and I have a "corporate rate plan" for companies that fish with us from 4 to 12-times a year. Included in this group are various sales executives, lawyers, construction companies, car dealers, beverage distributors, manufacturing companies, lawn maintenance, cattle ranchers, and one group of old retired coots- (you know who you are), that love to get out fishing with us on a more frequent basis.
These are the programs we offer:
BOOK QUARTERLY
Save $50 per trip
These are often used as incentives for employees, team building, and client appreciation rewards
BOOK 6-11 TRIPS PER YEAR
Save $75 per trip
These are usually for larger companies with more employees.
BOOK MONTHLY
Save $100 per trip
This plan works great for multi-level companies. It is also our most popular plan for anyone that likes to fish but doesn't want the hassles of owning, storing, and maintaining a boat of their own. Justin and I become your monthly "boat" payment. This is also our best plan for someone that just wants a day out on the water to tune up or learn new skills and become better anglers even if they have their own boats.
Our Corporate customers use these trips as write-offs and receipts can be sent to you when needed. We pick dates that conform to your schedules (like the first Tuesday, second Friday, or third Monday) of the month and take deposits for the number of fishing trips you would like to purchase for the year. If you have a bump in your schedule or need to move to another day for any reason, we try to accommodate you as best we can. For example, one of our monthly groups has a floating day that we book each month depending on each of their personal schedules in and out of town. We keep their bookings in a pending file and pull one out for each month once they all agree on a date. As you can see, we try to offer something for everyone. If you want to take advantage of the savings of our discounted frequent flyer plan (that you can write off) give us a call.
As always, we thank you for your support, and we can't wait to get you out on the water for another fun filled day sometime soon.
Captain Jim and Justin Ross -Fineline Fishing Charters