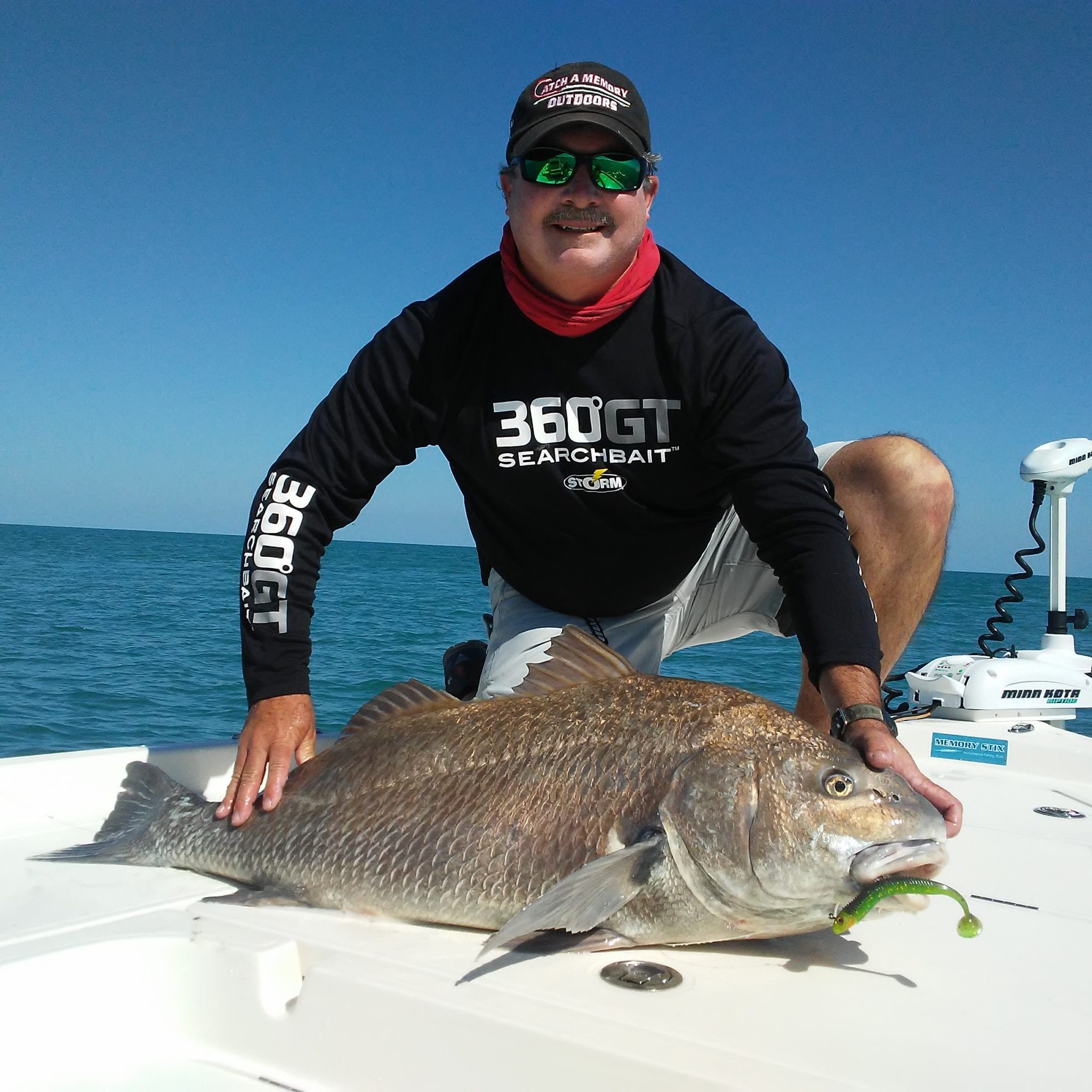 In the world of fishing there is always the latest and greatest thing to catch fish with.  However, rather than trying to reinvent the wheel, the Rapala owned- Storm Lure company just introduced a refined version of a proven fish catching devise- the plastic tailed jig.  They call it the 360 GT.  This is a reference to the fact the 360 days a year this can be your "Go To" lure.  Designed for the extremely competitive soft plastic swim bait market the 360 GT is going to make an immediate impact.   At first I did not really notice the improvements that went into this latest creation, but once I sat down and took a good hard look at it, I started to realize this "new" version of a tried and true lure design was no accident.
Storm engineers have "fixed" many of the problems that were associated with the standard jig-plastic tail design.  The Storm 360 GT boasts a fantastic body design with an incredibly lifelike wobble and tail action.  The body is also ribbed on top to create more turbulence in the water that can be felt by fish through their lateral lines, and this ribbing also reflects light much differently than an smooth bodied lure would.  One additional benefit is that the ribbing holds scents that are applied to the lure much more effectively than lures without ribbing.  A myriad of colors are available for just about any fresh or saltwater species that an angler may want to pursue.
Storm didn't stop there.  They also redesigned the head and hook section of the "jig head" as well.  They 360 GT has a polymer coating over a lead base to create a much larger head profile without increasing the weight of the head section dramatically.  This serves 2 purposes:  1) it allows for a much larger eye to be placed on each side of the head section.  2) It allows for much more detail to be etched into the head as well- gills slits and a realistic mouth have been added to this outer housing to give an extremely life-like appearance to this lure.  It does both of these without increasing the weight of the lure which might adversely effect your presentation in shallow water scenarios.  In addition to the overall size of the head, the trailing edge of this lure has been designed to more effectively hold the plastic body in place.  Storm created a deep "V" shaped that slides into a notch in the body section which keeps the head and body section in much better alignment, even after repeated attacks from predators.  The hook is large enough to handle some really big fish.  I tested the 360 GT out on some 40 to 60 pound class black drum with my better half on a recent trip near Cocoa Beach just to make sure these extra sharp hooks would stand up to just about anything you could cast it to.   I have to say that I'm very impressed with the overall performance and effectiveness of this new offering and I believe once more anglers find out about it they will be just as impressed.