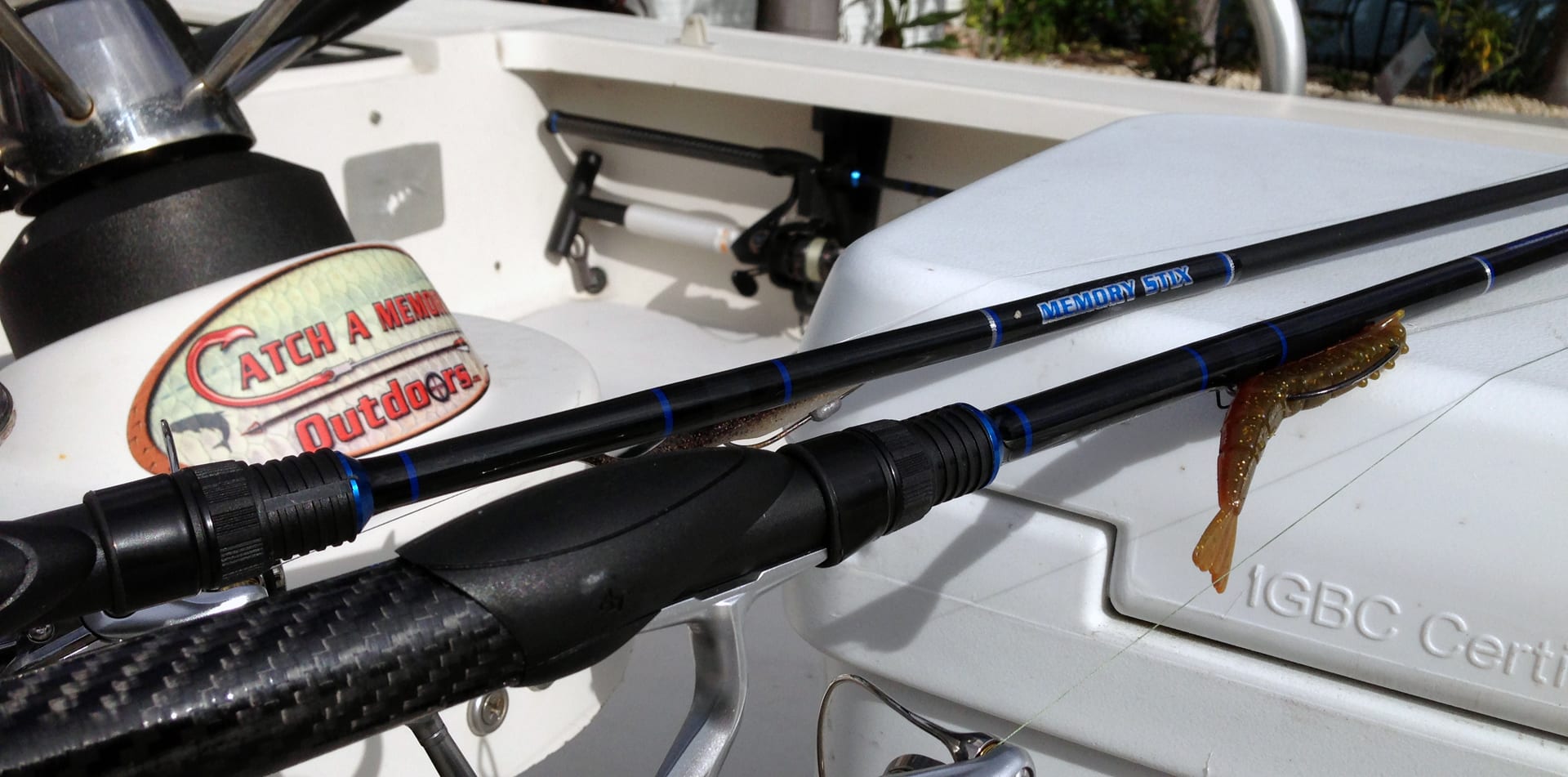 Memory Stix Performance Fishing Rods
After many years of consulting for companies like Shimano and Lamiglas, Captain Jim has designed his own series of specialized light tackle rods designed for discriminating anglers. Captain Jim decided to call these new creations "Memory Stix". The Memory Stix line up of inshore and near-shore rods (available here: https://adventurouscustomrods.com/shop/) are designed to handle all types and sizes of fish from speckled trout or redfish to larger species like tarpon and cobia. These rods are built with top quality components to promote maximum sensitivity, yet are surprisingly durable for a high-modulous graphite rod series. With the help of master rod builder Derwood Roberts of Adventurous Custom Rods these rods are ready for purchase and designed to help you go out and catch your next memory. Memory Stix was officially released to the public at many of central Florida's finer tackle shops, but online sales through adventurous Custom rods is always an option. Please contact Captain Jim Ross directly for more details.
Details About Memory Stix Performance Fishing Rods
The rods themselves are specifically built for light tackle fishing, so both bass and saltwater anglers are finding that these super sensitive rods are a valuable tool for their style of fishing. The 7'3″ Memory Stix rods work well with soft or hard jerk baits, topwater plugs, and shaky head or drop shot applications. For anglers casting live shrimp, pilchards, pigfish, small crabs, and fingerling mullet, there are two 7'10" inch models that are perfectly designed to properly cast these more delicate live offerings. These rods look different than most other rods on the market, and they outperform everything else in their price class. Captain Jim insisted on a rod designed for years of trouble-free fishing. Ergonomic reel seats, tubular graphite handles, and Titanium Chrome coated stainless steel guides that are virtually bulletproof and yet weight 30-35% less than competitors "bulky" ceramic guides, are just a few of the features that you'll find on these top quality fishing rods. Captain Jim loves to build high-end rods, and ease of casting and low maintenance are key features designed into this rod series.
Memory Stix rods have an incredible feel, balance, and look about them, and they are extremely affordable with an MSRP of just $149.95. We feel you can not find a better rod at this price point.
Memory Stix Models, Weights, and Sizes:
Model- MS 732-SMF Length- 7′ 3″ rated for 8 – 15 lb test lines
lure weights 1/8 – 5/8 oz. Taper-Moderate Fast
medium light action- 2 Power- spinning rod
Model- MS 733-SMF Length-7′ 3″ rated for 10 – 20 lb test lines
Lure weights 1/4 – 3/4 oz. Taper-Moderate Fast
Medium action- 3 Power- spinning rod
Model- MS 734-SMF Length- 7′ 3″ rated for 12 – 25 lb test lines
lure weights 3/8 – 1 1/4 oz. Taper- Moderate Fast
Medium Heavy action- 4 Power- spinning rod
Model-MS 792-SMF Length- 7′ 10″ rated for 8 – 15 lb test lines
Lure weights 1/8 – 5/8 oz. Taper- Moderate Fast
Medium Light action- 2 Power- spinning rod
Model- MS 793-SMF Length- 7′ 10″ rated for 10 – 20 lb test lines
Lure weights 3/8 – 1 oz. Taper- Moderate Fast
Medium action- 3 Power- spinning rod