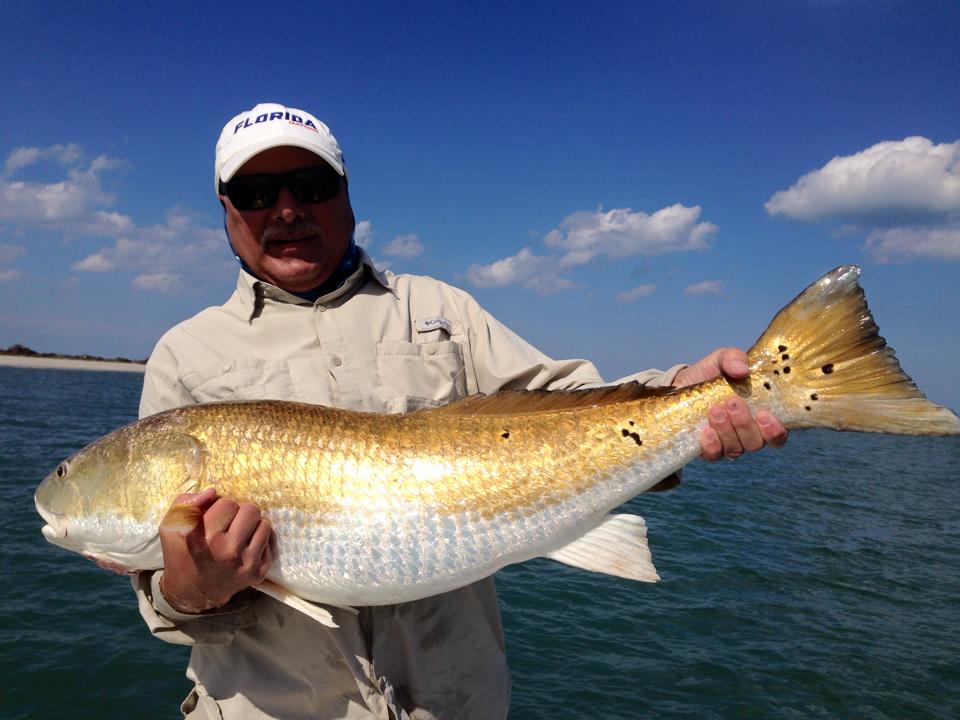 Orlando, Daytona Beach and Cocoa Beach area fishing has been really good over the last few days. Along the near-shore waters of Daytona and Cocoa Beach located east of Orlando "bull" redfish are still possible inside the inlet near the jetties. Live or cut mullet, pinfish, and crab can all be effective baits to use for them. Flounder, bluefish, ladyfish, jack, and spanish mackerel may also be possible around the main shipping channel inside of Port Canaveral located on the north end of Cocoa Beach. In the Banana River and Indian River west of Cocoa Beach and east of Orlando we have been fishing the Intra-Coastal Waterway channel with jigs and Rapala X-Rap lures that imitate fingerling mullet or glass minnows. for these species as well Redfish, jack, and speckled trout have been hitting live shrimp or mud minnows near docks and mangrove covered islands in the Cocoa Beach area as well.
In the Mosquito Lagoon located south of Daytona Beach redfish have been hitting jerk baits and top water plugs on cloudy days or during the first two hour of daylight in the morning. Redfish are also striking cut mullet and ladyfish on the flats of the Mosquito lagoon especially in areas of turbid water near the central portion of the lagoon this week.
As long as these water temperatures stay in the upper 70 degree range we should continue to have decent fishing in all three of these bodies of water located 40 to 50 minutes due east of Orlando.
Right now is a great time to book a trip with Fineline Fishing Charters so click on my reservations tab and let's go out to catch your next memory!!!
Capt. Jim Ross