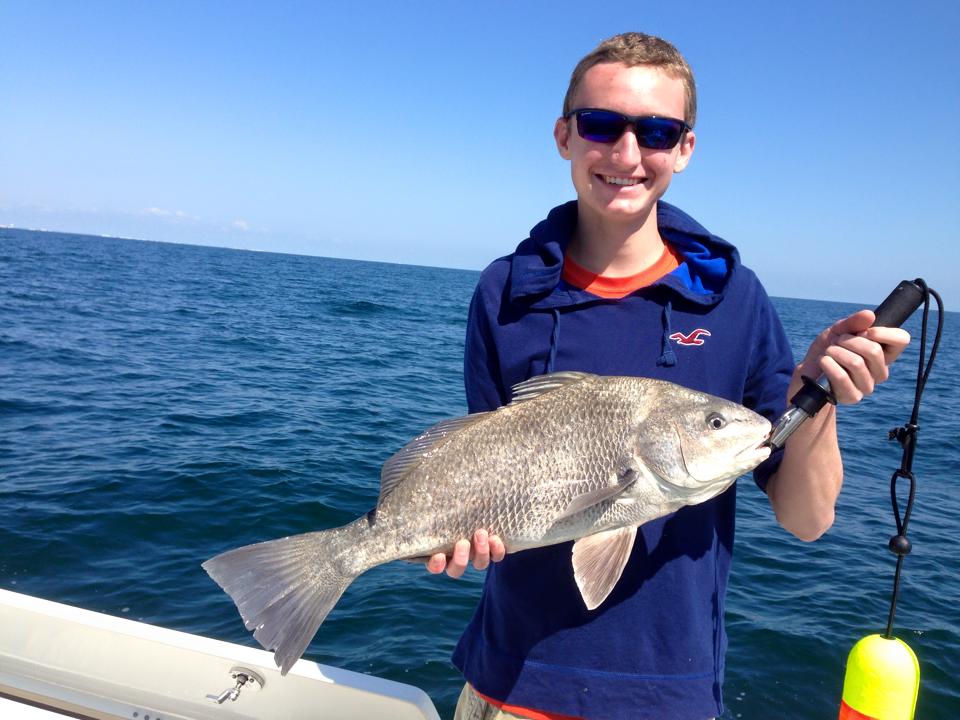 It's been a wile since I updated my Fineline fishing Charters fishing 4-cast and my catch report for the Orlando, Cocoa Beach and Daytona beach area.. So here is a new one.
By: Captain Jim Ross
ORLANDO, COCOA BEACH, PORT CANAVERAL
Depending on the water temperatures in the month of November the bite outside of Port Canaveral on the northern end of Cocoa Beach can either be fantastic or just mediocre.  Hopefully we will see another fantastic year like we had last year with good weather conditions and calm seas during most of the month.  When the seas are less than three feet anglers can get out into the Canaveal Bight area by boat and find Bluefish, Spanish Mackerel, Ladyfish, Shark, Redfish and Snook working schools of baitfish that are migrating southward along the Cocoa Beach area.  These baitfish can include pilchards, menhaden, or fingerling and full sized mullet on most days.  Good rigging techniques for the smaller baitfish include putting them on a ¼ to ½ ounce HookUp brand jig head or a sliding sinker rig.  For the larger mullet and full sized menhaden, try using a 7/0 to 9/0 sized VMC circle hook and egg sinker for weight.  These larger baitfish will usually be struck by shark, large "bull" redfish, and the straggling tarpon that may still be around if the water temps stay above 74 degrees.  Good artificial lures include the Rapala X-Rap minnows in the size 8, 10, or 12 models. The can be cast or trolled in the nearshore waters east of Orlando,  and along the shoreline of Cocoa Beach for many of the species that have been mentioned.  Flounder may also be a possibility along the surf zones of Cocoa Beaches on some days, but more than likely anglers will find better numbers of flounder inside of the Port Canaveral ship turning basins.  These bodies of water that are located just 45 minutes east of Orlando have some rocky areas and piers or jetties where the flounder like to ambush prey.  Tripletail anglers usually fish along the Port Canaveral shipping channel buoys or look for color changes, floating debris and weeds in the 20 to 50-foot depths from the entrance of the Port out to about Buoy #2 east of Orlando.  Toss a live shrimp to tripletail that are hanging around floating objects and you should get a positive response.  I like to use a 2/0 or 3/0 circle hook attached to a piece of 30 pound test Sufix Fluorocarbon for this type of fishing.  I generally do not use a weight on this rig to let the shrimp swim more naturally around the weeds or other floating structure that the tripletail may be hanging around.  Pompano and whiting are normally abundant along the surf zones from the tip of the cape southward to Cocoa Beach.  These tough little fish hit goofy jigs or small 1/8 and ¼ ounce HookUp jigs tipped with s piece of shrimp or whole sand flee. The pink, orange, and chartreuse colors tend to work best for me on these fish.
DAYTONA BEACH, COCOA BEACH, MOSQUITO LAGOON, INDIAN RIVER AND BANANA RIVER LAGOON AREAS NORTH AND EAST OF ORLANDO.
Trout, black drum, and redfish are the "big three" that anglers will be targeting this month in these lagoon waters south of Daytona, north of Cocoa Beach and east of Orlando.  The Speckled Trout and Redfish will normally strike top-water plugs or sub-surface plugs near mangrove covered shorelines or other structures like docks or rocky ridges throughout these lagoons.  Look for areas where schools of baitfish are milling around to hold the best numbers of these species.  Live (or fresh dead) shrimp, fingering mullet or pilchards can all be effective when rigged on a jig head or 3/0 to 5/0 sized VMC circle hook with a small split shot for weight.  If the Daytoan and Cocoa Beach waters get cold early this year and drop into the upper 60 degree range during the month of November anglers should look for sheepshead and black drum to start getting more aggressive.   These fish usually like cut clam, oyster, or shrimp best, but have been known to hit a jig once in a while.  Look for fish holding along channel edges if we get a cold front or two because the water here will have a more stable water temperature than areas out on the open flats.
Until next time….Catch a Memory!!!!
Remember you can book your trip with captain Jim Ross of Fineline Fishing charters by going to the reservations page on this web site.  You can also purchase a Fineline Fishing Charters gift certificate for that someone special with the click of a button right on this site.